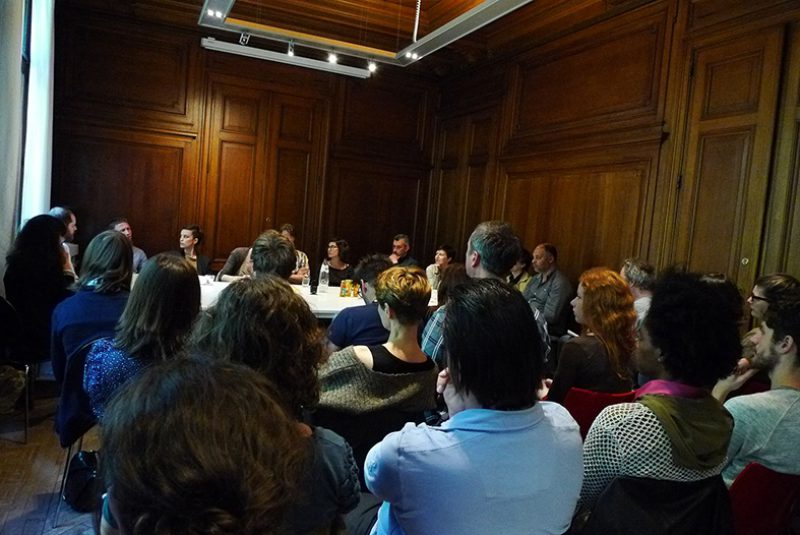 On & For Production and Distribution (On & For) stems from a previous European project called On & For Production (2014-2016) and will build upon its results. During the project's first duration, On & For created 4 public workshops, 1 symposium, and 5 round table events that invited more than 150 professionals from 15 countries. By 2016, On & For had supported 21 international artists' moving image (AMI) projects.
Listening to the feedback and demand for such a project to continue evolving, a new project with deeper insight into matters of production and distribution called On & For Production and Distribution (2018-2021) was launched.
On & For produces public situations for the discourse on AMI production and distribution to grow, inter-sectorial knowledge exchange to thrive, and sector development to flourish.

The target audience of artists, filmmakers, producers, distributors, gallerists, museum workers, curators, film festival programmers, independent programmers, film funds, policy makers, art commissioners, art/film industry students, and AMI lovers in general are reached by providing public workshops, case-study seminars, symposiums, and screenings.
On & For focuses on accompanying AMI projects in-the-making, their authors and producers too, and invites keen professionals from the visual art and film sectors to partake in their evolution, supporting projects in development with hands-on peer to peer Work Sessions. This component is invitation based and set up for the development of the projects in progress and to build up cross-sectoral (namely art, film, and culture) AMI networks.
On & For is initiated by the artist-run production and distribution organisation Auguste Orts (BE) in collaboration with the AMI-oriented film festival Kaunas International Film Festival (LT), the AMI-focused arts agency, collection and distributor LUX/LUX Scotland, and the artist-run higher educational institute Nordland Kunst -og Filmskole (NO).
On & For Production and Distribution is made possible with the support of the Creative Europe Programme of the European Union.
Get in touch: info@onandfor.eu