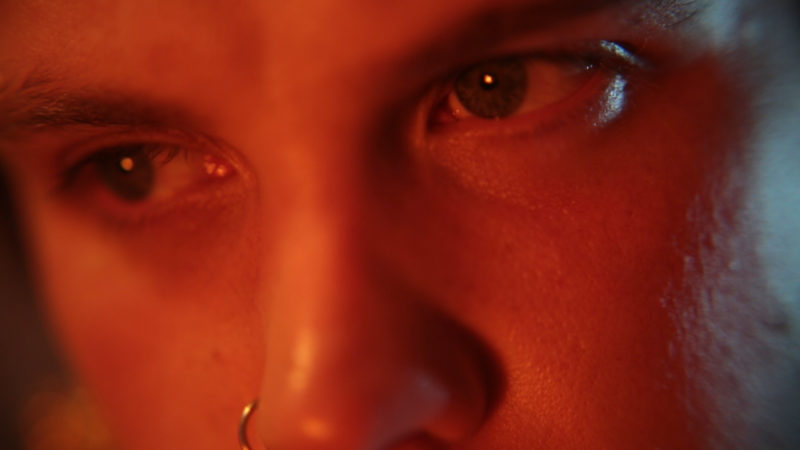 Case Study—Online, 2020
03 December 2020 - LUX, Waterlow Park Centre, London

The On & For Case Studies are usually public seminars that unpack the process of filmmaking, starting with an idea that travels from a sketch or scribble in a notepad to on the screen, together with a live audience. Now, though, in times of crisis, we are finding new methods to learn from one another.
We are proud to support our partners LUX and LUX Scotland in their presentation of the recorded artist's talk PEOPLE HAVE COME by the artist Jamie Crewe, which will be launched on Thursday 3 December 2020.
This recorded case study accompanies the exhibition Ashley by Jamie Crewe. They will present "a recorded artist's talk in which they discuss a technique that recurs throughout their practice. They have named the technique PEOPLE HAVE COME, and it describes courting and avoiding publicness. For certain kinds of people the desire to be seen, recognised, and understood is as powerful as the urge to hide, be illegible, and repel investigation. In reference to Ashley, as well as to other works and experiences, this talk traces eruptions of this ambivalent seam in Jamie's life and practice. PEOPLE HAVE COME will be available online on the LUX website for the duration of the show." (LUX/LUX Scotland website)



Exhibition: Ashley by Jamie Crewe runs from Thu 3 Dec 2020 - Sat 30 Jan 2021 / 12-4pm at
LUX, Waterlow Park Centre, Dartmouth Park Hill, London, N19 5JF
Free, Booking via Eventbrite: Book online



Online event: Artist's talk PEOPLE HAVE COME by Jamie Crewe is available here from 3 Dec 2020- 30 Jan 2021.

Jamie Crewe

JAMIE CREWE is a beautiful bronze figure with a polished cocotte's head. They grew up in the Peak District and are now settled in Glasgow.
They have presented several solo exhibitions: Solidarity & Love, Humber Street Gallery, Hull (2020); Love & Solidarity, Grand Union, Birmingham (2020); Pastoral Drama, Tramway, Glasgow (2018); Female Executioner, Gasworks, London (2017); and But what was most awful was a girl who was singing, Transmission, Glasgow (2016). Their work has also been presented as part of I, I, I, I, I, I, I Kathy Acker at the Institute of Contemporary Arts, London (2019); as part of the KW Production Series at Julia Stoschek Collection, Berlin (2018); as part of the Glasgow International 2018 Director's Programme in the group show Cellular World at GoMA, Glasgow; and as part of the Artists' Moving Image Festival 2016 at Tramway, Glasgow. In 2020 they were awarded one of ten Turner Bursaries on the basis of their sister exhibitions at Humber Street Gallery, Hull, and Grand Union, Birmingham. In 2021/22 they will be part of British Art Show 9, which will tour Wolverhampton, Plymouth, Aberdeen, and Manchester.



On & For Production and Distribution is initiated by Auguste Orts (BE) in collaboration with Kaunas International Film Festival (LT), LUX/LUX Scotland (UK), and Nordland Kunst -og Filmskole (NO). With the support of the Creative Europe Programme of the European Union.

Image: still from Ashly (2020) by Jamie Crewe