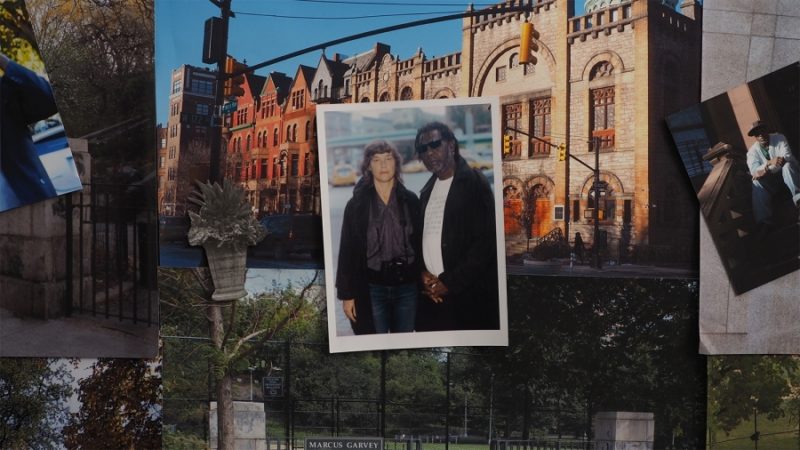 Artist Film in Focus—Kaunas, 2019
27 September 2019 - Kauno kultūros centras, Kaunas
False Belief (NO, 2019, 105 min) by Lene Berg

On & For is excited to welcome our partner and filmmaker Lene Berg to Kaunas International Film Festival. Lene Berg was an artist in focus at Nordland Art and Film School, where she discussed the making of her latest film, False Belief. Now, we are delighted to screen the film in full! After the screening, Lene Berg and her protagonist, D, will join Ilona Jurkonytė (Curator, Programmer, and Director of KIFF) in conversation on the film.
False Belief by Lene Berg
False Belief is the love story of a couple caught up in the gentrification of a neighborhood that is wiping out a seminal African-American cultural legacy and displacing its original residents. In 2008 Norwegian artist and filmmaker Lene Berg moved in with her partner, a black New York publisher, who will be referred to as D. After giving a statement to the police about being harassed by his neighbor in Harlem, D was arrested, prosecuted, and imprisoned. But for what exactly? This initiated a journey where D's faith in the American justice system put everything he cherished in life at risk.
Awards
Nominated in Berlin International Film Festival.
About the director
Lene Berg (born 1965 in Oslo) is a Norwegian film director and artist, who works in Oslo and Berlin. Her artistic praxis includes film, installation, collage and text-based work. She has produced a number of projects in public spaces and directed three independently produced feature-length films.
SCREENINGS

September 27 19:30 Kaunas Culture Centre "Tautos namai" (Kęstučio st. 1.)Buy ticket »
October 3 20:15 Temporary Cinema Hall "Romuva" (Kęstučio st. 62) Buy ticket »