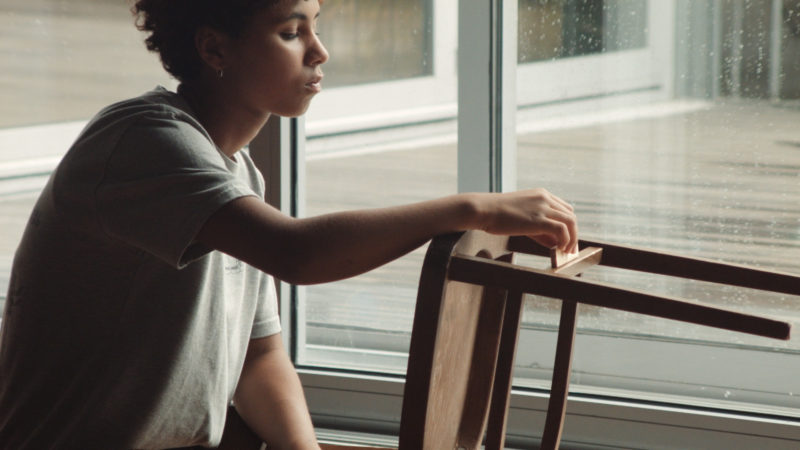 Case Study—Lisbon, 2020
01 February 2020 - 4 pm - Calouste Gulbenkian Museum - Modern Collection
Artist Manon de Boer, curator Rita Fabiana (Gulbenkian Foundation) and programmer Nuno Lisboa (Doc's Kingdom) are invited by On & For to participate in a case study called From scratch to film. Together, they will discuss the creation of the trilogy From nothing to something to something else by Manon de Boer (produced by Auguste Orts), her practice, and her exhibition called Downtime, which opens at the Calouste Gulbenkian Museum on 30 January 2020. The discussion will be preceded by a screening of previous works by de Boer.
Screening program :
Presto, Perfect Sound (2006)
Two Times 4'33" (2008)
Dissonant (2010)
An Experiment in Leisure (2016)

The On & For Case Study is a public seminar that unpacks the process of filmmaking, starting with an idea that travels from a sketch or scribble in a notepad to on the screen. The Case Study develops as a horizontal conversation in which the speakers and the audience get a chance to share concerns, strategies and knowledge of available and lacking means when it comes to making a film happen.

Manon de Boer
Manon de Boer completed her artistic education at the Akademie Van Beeldende Kunsten, Rotterdam, and at the Rijksakademie van Beeldende Kunsten in Amsterdam. Using personal narration and musical interpretation as both method and subject, de Boer explores the relationship between language, time, and truth claims to produce a series of portrait films in which the film medium itself is continuously interrogated. Her work has been exhibited internationally, at the Venice Biennial (2007), Berlin Biennial (2008), São Paulo Biennial (2010), Documenta (2012), Taipei Biennial (2016) and has also been included in numerous film festivals in Hong Kong, Marseille, Rotterdam and Vienna. Her work has been the subject of monographic exhibitions at Witte de With in Rotterdam (2008), Frankfurter Kunstverein (2008), South London Gallery (2010), Contemporary Art Museum of St Louis (2011), Museum of Art Philadelphia (2012), Van Abbe Museum, NL (2013), Secession Vienna (2016), Groundwork, GB (2018) and National Gallery Prague (2019), among others. De Boer is co-founder of the Brussels-based, artist-run production and distribution platform Auguste Orts and currently teaches at Ecole de Recherche Graphique in Brussels. (augusteorts.be)
Rita Fabiana
Rita Fabianais Head of Programming of the Calouste Gulbenkian Museum since March 2016. For the Calouste Gulbenkian Museum and the Moderna Arte Center she has been curating, presenting and organizing exhibitions since 2006 by emerging, mid-career and established Portuguese and international artists such as Ana Jotta and Ricardo Valentim, Leonor Antunes, André Guedes, Zineb Sedira, Yto Barrada, Emily Wardill and Tamás Kazsás. She curated the first retrospectives by the artists Tulia Saldanha and José Escada, and co-curated a retrospective by António Ole. As co-curator, she has also participated in proj- ects by Doris Salcedo, Javier Telles and Vasco Araújo. She is currently co-curating a project by Manon de Boer. She has written in artists monographs and contributed several exhibitions catalogues. Between 2014 and 2017 she lectured a seminar on curatorial practices in the MA degree on Curatorial Studies at Coimbra University and has been invited by Malmo art Academy as external participant in the MFA examinations for 2018. She has a degree in Art History from Université Paris I – Panthéon- Sorbonne and a postgraduate degree in Curatorial Studies from the Fine Arts School of Lisbon University.
Nuno Lisboa
Nuno Lisboa is director and programmer of Doc's Kingdom International Seminar on Documentary Film, organized by Apordoc in Portugal since 2000. Originally inspired by the Flaherty Seminar, Doc's Kingdom annually gathers an international community of around 100 film lovers for a weeklong immersive and eclectic program of screenings and discussions in the presence of up to 10 featured filmmakers. Since 2006, in collaboration with different curators, Lisboa programmed over 10 Doc's Kingdom seminars, such as "Landscape: the work of time" (2008), "The archive-image" (2010), "Idea of an island" (2013), "The end of nature" (2016) and "Forest of signs" (2019). In 2017, he programmed the 63rd annual Flaherty Seminar, "Future Remains". Lisboa has been invited to teach at Escola Superior de Artes e Design de Caldas da Rainha (2001-2016), Escola Superior de Cinema i Audiovisuals de Catalunya (2018-2019), and School of Arts, Design and Architecture at Aalto University (2019). He graduated in Communication Sciences at Nova University in Lisbon, pursuing film education in different practical contexts such as Archimedia — European Training Network for the Promotion of Cinema Heritage and the Gulbenkian Program for Artistic Creation and Creativity.
The project coordinator, Rebecca Jane Arthur, will introduce the project and speakers.


On & For Production and Distribution is initiated by Auguste Orts (BE) in collaboration with Kaunas International Film Festival (LT), LUX/LUX Scotland (UK), and Nordland Kunst -og Filmskole (NO). With the support of the Creative Europe Programme of the European Union.





Image: OUMI. From nothing to something to something else, part 3 (2019) by Manon de Boer
From nothing to something to something else by Manon de Boer
Bella, Maia and Nick. From nothing to something to something else, part 1 Manon de Boer HD vide...
Read More