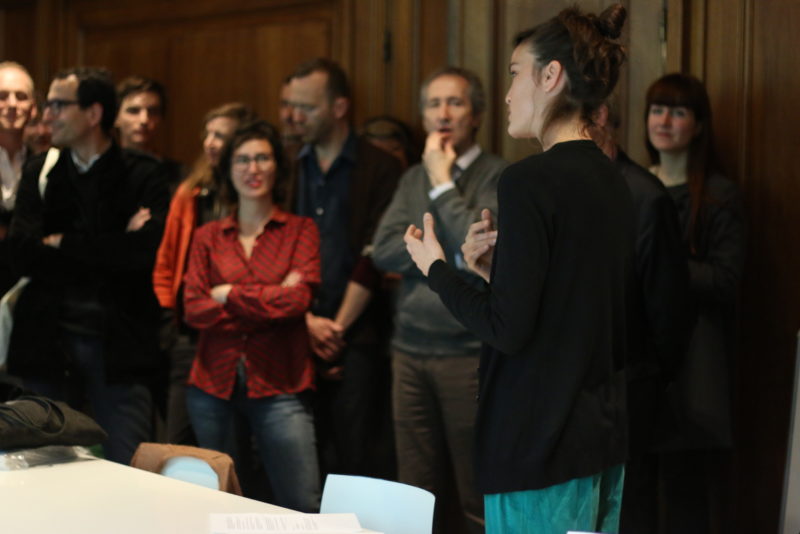 Workshop—Brussels, 2014
26 April 2014 - Flanders Audiovisual Fund | vlaams audiovisueel fonds (VAF), Brussels
The On & For Workshop is organised for artists, professionals and students working with artists' moving image as a moment of public dialogue and debate, during which the experience of the Work Sessions is assessed in order to build a collective form of critique and artists' film production specificities and strategies are shared and addressed.
The workshop was chaired by María Palacios Cruz and included the participation of the four artists: Sven Augustijnen (BE), Beatrice Gibson (GB), Robert Schlicht / Romana Schmalisch (DE) and An Van. Dienderen (BE); and their producers Marie Logie — Auguste Orts; Ben Cook — LUX; Mike Sperlinger- curator, writer, producer, professor; Mathilde Villeneuve — Les Laboratoires d'Aubervilliers; Olivier Marboeuf — Khiasma and Spectre Productions; Steven Op de Beeck – Contour Biennale (BE).
Initiated by Auguste Orts (BE) in collaboration with LUX (GB), Contour Mechelen vzw (BE) and Art Brussels (BE). With the support of the Flanders Audiovisual Fund, Argos Centre for Art and Media, Creative Europe MEDIA Desk Flanders and Kunstenpunt | Flanders Arts Institute & Media.