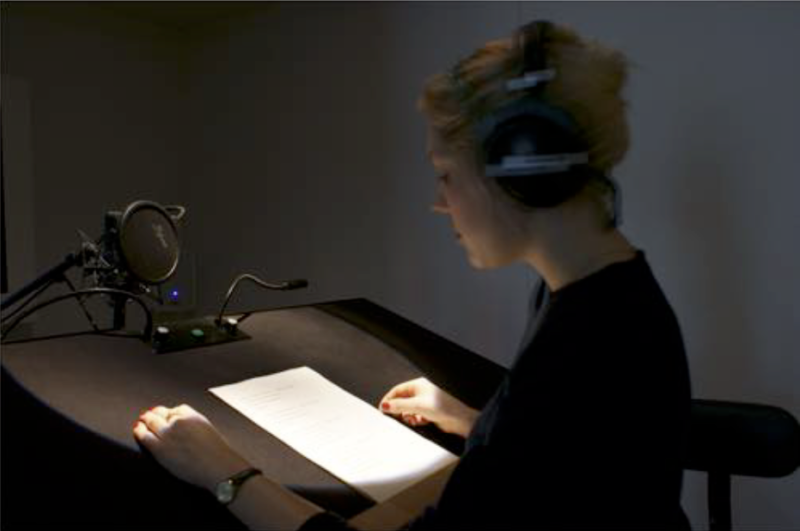 Her Little Big Lies © Michelle Deignan
Her Little Big Lies by Michelle Deignan


Her Little Big Lies a moving image work that frames the history of the making of Frau Wernicke through a set of five propaganda directives written for the BBC in 1940. The programme Frau Wernicke was a satirical monologue delivered by the eponymous narrator, a feisty fictitious Berliner housewife who grumbled in a comic profusion of witty words about the war and everyday life in Nazi Germany. Many of those who worked on the Frau Wernicke show were German Jewish refugees employed by a BBC whose output was overseen by the British Department of Propaganda. The reach of Frau Wernicke was unquantifiable, being broadcast at a time when listening to the BBC in Germany was illegal and even punishable by death. Original recordings of Frau Wernicke and a significant proportion of the show's scripts no longer exist.
Her Little Big Lies continues Michelle Deignan's persistent scrutiny of the politics and mechanics of story production for mass consumption that evolved from her experiences of making broadcast media and political propaganda. The film engages with the mechanical, ethical and organisational infrastructures around the production of Frau Wernicke, a unique piece of broadcast media history. It is a fictional narrative based on real people and events that critically re-works and appropriates conventions of film drama, radio drama and documentary. Dialogue between actors, monologues on and off-screen and on-screen text weave with sound and image, image and silence, sound and darkness. Distinctions will be drawn between the affect and effectiveness of both sound and image, and sound with image through the work's form and content.
The work is due to go into production in 2017 and be exhibited in Crawford Gallery Cork. A more narrative driven work, based on the stories of the people who worked on the Frau Wernicke programme, is also being developed for a potential television series. The research for Her Little Big Lies has been mentored by staff and associates at the Imperial War Museum London and the Research Centre for German and Austrian Exile Studies, University of London. Michelle Deignan will present a seminar on Her Little Big Lies on 15th March 2017 at the University of London owned Senate House. From 1939 – 1944 Senate House was the headquarters of the UK's Ministry of Information, a controversial Government department responsible for subterfuge, censorship and propaganda.

MICHELLE DEIGNAN (b. 1970, Dublin) is an artist and filmmaker who lives and works in London. Her multichannel installations, single screen shorts and feature-length documentaries have been screened and exhibited in international venues such as Whitechapel Art Gallery; Badischer Kunstverein, Karlsruhe; Tramway, Glasgow; Camden Arts Centre; Media Art Lab, Moscow; Irish Film Institute, Dublin; Tate Modern; Royal Academy London; Gaîté Lyrique, Paris; Crawford Gallery, Cork; Konstall Malmo; Haus der Kulturen der Welt, Berlin and CAN, Neuchatel. Her work has been supported by Arts Council Ireland, Culture Ireland, Arts Council England and The Elephant Trust. In 2008 she was the recipient of the ACAVA/Arts Council England residency in Berlin for artists based in London. Her moving image work is distributed by LUX.

Production: Electra
Stage of development: in development