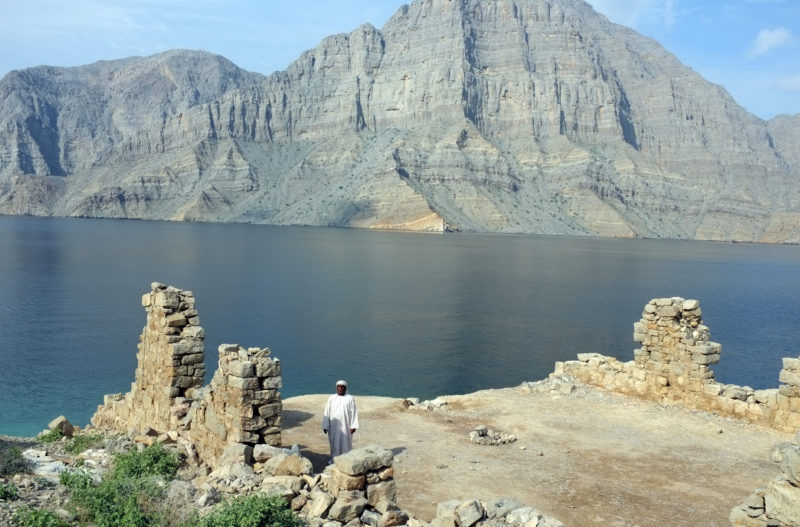 Psychic Island @ Nasrin Tabatabai and Babak Afrassiabi
Psychic Island by Nasrin Tabatabai and Babak Afrassiabi
Psychic Island is a film centering Telegraph Island as its main location and character. Situated deep in a mountainous narrow inlet in the Persian Gulf, the island was made into a repeater station by the British from 1865 to 1868. The film depicts the Telegraph Island as an 'unanchored' transmission node, a technological organ signalling from near and far-removed locations, with intertwined narratives, voices and sounds from what and whoever had once or will cross it.
The film takes place on the small rocky island known as the Telegraph Island. Hidden away deep inside a narrow mountainous inlet on the south of the Persian Gulf, the island had been made into a telegraph outpost by the British government in the 1860s to ease communication between London and the India Office. With 1500 miles of submarine cables connecting it to inland telegraphy lines, the island was operating as a repeater station for no more than three years before being left uninhabited for a decade and a half. Now the new inhabitants, who arrived on the island only in the last ten years, have started to experience strange phenomena. They believe that the island is transmitting certain unidentifiable signals and that whatever words or sounds they communicate between themselves or pass through their minds are channelled to them by the island. This has distressed and divided the community in their responses to this situation. Some believe that what is transmitted to them comes from the waters and others are convinced that it comes from the air. The first group finds their rescue in elevating the island in the air and stopping the transmission from the sea, the second group sees the solution in immersing the island in the water and away from the air. A parley is organized between the two groups involving lobbying and politicking and deceit. Meanwhile the transmission of the signals continues, increasingly orchestrating what takes place on the island.
The artists BABAK AFRASSIABI and NASRIN TABATABAI have collaborated since 2004 on various joint projects (namely on Pages), consisting of objects, videos, audio recordings, paintings and printed matters often assembled together as installations. Their work seeks to articulate the undecidable space between art and its historical conditions, including therecurring question of the place of the archive in defining the juncture between politics, history, and the practice of art. They have been tutors at the Jan Van Eyck Academie, Maastricht, NL from 2008-2013, and currently at Royal Academy of Art, Master of Artistic Research, the Hague, NL. The artists' work has been presented internationally in various solo and group exhibitions, amongst others: Gwangju, Istanbul, São Paulo and Sharjah Biennials; Chisenhale gallery, London, UK; Museu d'Art Contemporani de Barcelona (MACBA), Spain; MAK Center/ Schindler House, Los Angeles, USA; Witte de With Centre for Contemporary Art, Rotterdam, NL; MUHKA, The Museum of Contemporary Art, Antwerp; Art Jameel, Dubai, UAE. They participated at film and documentary festivals such as International Film Festival Rotterdam; FID Marseille; Transmediale, Berlinale and more.