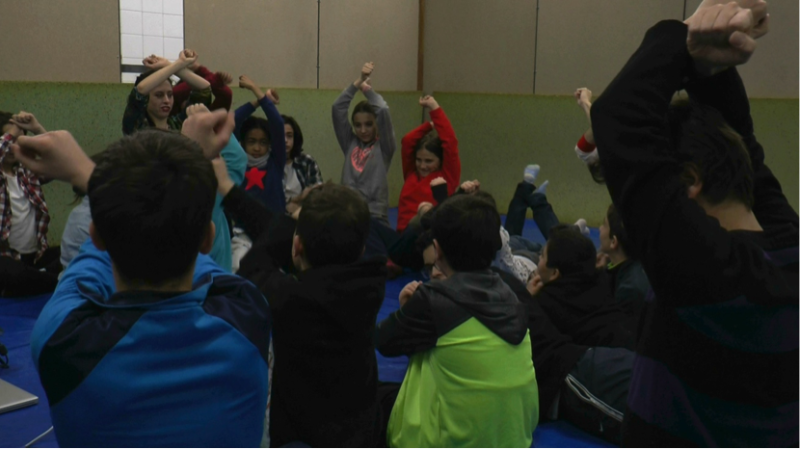 Pyramids © Pilar Álvarez and Mercedes Álvarez
Pyramids by Pilar Álvarez and Mercedes Álvarez
MERCHE: What is power?
ANA: Having a lot of money.
ALBERTO: Spiderman and Superman have it.
ANA: And my father when he holds the TV remote.
ALBERTO: The plumber also has power. Yes, he has the power to fix pipes.
ANA: That isn't power.
ALBERTO: Well, it's a knack. Politicians, the king, have it. They can cheat, order, make loans…
ANA: Of course, they can command us, and they have more influence.
ALBERTO: They can build houses, they can tear down houses.
MERCHE: Do you have power?
CONTEXT
CA2M -Centro de Arte Dos de Mayto- has been organising artistic projects in educational contexts since 2009. As part of this line of work by the institution, the collective El Banquete (Alejandro Cinque, Raquel G. Ibáñez, and Marta van Tartwijk) is carrying out a project at a public school in Móstoles, the suburban city of Madrid where CA2M is located.In parallel to the project developed by El Banquete, the filmmaker Pilar Álvarez, together with the educational researcher Mercedes Álvarez, were invited by CA2M to produce an audio-visual essay addressing its critical and practical challenges. Away from mere docu-mentation, the commission was envisioned as an apparatus for critical analysis with regards to an artistic project in a school. It is articulated by sequences recorded in the form of direct cinema that follow the main characters: teacher, artists, educators, and the group of pupils.
ABOUT PYRAMIDS
For four months Pilar Álvarez and Mercedes Álvarez have been attending the sessions be-tween El Banquete and a group of 11 year-olds. The goal of these sessions is to construct a cabin in a space of the school that the children could not access until then. The artists, convinced of the possibilities offered by participative democracy methods as they had been put into practice during the 15-M occupy movement (in which the teacher as well as the artists took part), adopted this strategy as a means to organise decision-making, conferring full responsibility to the children. Their sudden autonomy inevitably questioned the power structures embedded in an educational institution. Bearing this in mind, the observation of the process focuses on the situations that relate to power, autonomy, and group identity. Some of the questions that arise are: Is there space in school for utopia? Is school a space for emancipation or is it instead a privileged place for adaptation and standardisation? What will happen if we build a Temporary Autonomous Space in the school? How do the children want to be governed?
While the pupils occupied the space and the cabin took shape, conflicts emerged that not only affect the children involved in the construction but also other agents, raising a series of questions that overflow the strict boundaries of practical implementation: The establishment of criteria for decision-making and their adoption, the possibility of working while striving for horizontality, the negotiation with authority, belonging to the group and the privileges it implies, exclusion, the reluctance towards change, gender relations… In this sense it was imperative to also think of how to set up a space for the conflicts and challenges that artistic action generates inside – or perhaps within the interstices – of a normative institution such as the school.
Pyramids takes its name from The Human Pyramid by Jean Rouch. As in the film by Rouch this one tries to reveal what happens when authority and roles are redistributed in a school, in this case in the construction of a sort of pyramid in the school. It questions the capacity of film to testify and participate in educational processes and to thus multiply the way in which practices that operate at a relational level can be followed, shared, and explored.
PILAR ÁLVAREZ, Spanish artist and filmmaker, with a Degree in Fine Arts from the University of Salamanca, she completed a Documentary Bachelor's Degree at the Film Institute of Madrid and graduated in Documentary Direction at EICTV (International School of Film and Television) in San Antonio de Los Baños, Cuba. Her artwork and films have been shown internationally at venues and festivals such as the Forum Expanded of the Berlinale; Rencontres internationales de documentaire de Montréal; Cinema du Reel at Le Centre Pompidou; Círculo de Bellas Artes, Madrid; festival Foto España, Madrid; and D-Generation itinerant video-art season, Cervantes Institute. Pilar Álvarez has won several prizes such as the Young Artists of Castille and Leon Award (Spain), Prize Best Short-film, VIII International Documentary Festival Punto de Vista, Pamplona 2013, Prize Best Shortfilm at FESAALP, la Plata, Argentina 2014, and she was also selected for the Injuve 2009 (Spanish National Young Creation Prize). "Escenas volátiles" is her last individual exhibition (Javier Silva Gallery 2015) and she recently opened a new one for Creart festival (Valladolid, March 2016)

MERCEDES ÁLVAREZ ESPÁRIZ, educator and researcher, her field of research focuses on the areas of education and collaborative artistic practices. Trained in audio-visual communication and photography, but with a professional practice linked to education in non-formal contexts, at present she is carrying out several research projects accompanying artist residencies for the Museo Nacional Centro de Arte Reina Sofía and CA2M. She also participates in a project of self-managed free education as well as in other forums that address education.