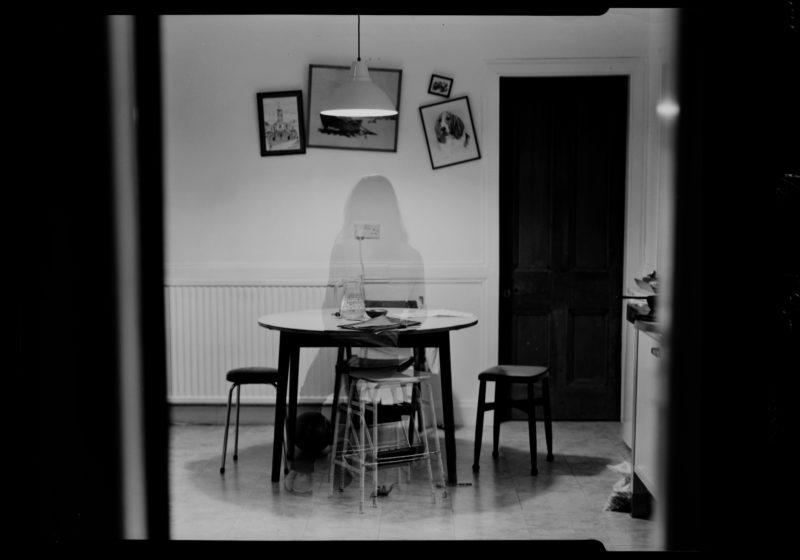 To a God Unknown © Margaret Salmon
To a God Unknown by Margaret Salmon
Written, directed and filmed by Margaret Salmon, To a God Unknown is an independent feature-length artist's film shot on location across the city of Glasgow. It builds upon Salmon's interest in intuitive, underground approaches to artist's film production, analogue experimentation and feminist storytelling.

To a God Unknown is a speculative narrative - blending observational realism with existential fantasy. Its heroine, X, is a British, middle-aged, single mother.

X has 2 children, lives with them in a flat in Glasgow. She cares for her children, buys groceries, rides the subway, goes to the play-park, meets other parents... She works, at all hours, between practical labours, but her work is nondescript and vague, on a laptop. Serene, resilient, X sometimes receives abuse and threats from an unnamed person, via text messages. She also interacts with spirits.

Suspended within a poverty of care and urban isolation, our heroine's visions – analogue ghosts made as in camera double-exposures - personify an imaginative resistance to dominant social orders. Orders which dictate gendered behaviour, class determinisms, emotional suppressions and, in X's story, criminal abuse. These spirits caress, celebrate and sooth; they eventually lead X to empowerment and rebirth.

A meditation on loss, resistance and actualisation, To a God Unknown is a woman's existential melodrama and fantasy, as well as a lovingly-rendered celluloid portrait of Glasgow itself. Featuring characters and locations from across the city as both witnesses and accomplices to X's transformation, To a God Unknown includes live performances and contributions from Glaswegian bands such as National Bedtime and Sacred Paws.
MARGARET SALMON lives and works in Glasgow. Concerned with a shifting constellation of relations, such as those between camera and subject, human and animal, or autobiography and ethnography, Margaret Salmon's films often examine the gendered, emotive dynamics of social interactions and representational forms. Solo exhibitions of her work have been held at institutions including DCA (2018/19), Tramway (2018) Staatsgalerie Stuttgart (2015); Contemporary Art Museum St. Louis, USA (2011); Witte de With Centre for Contemporary Art, Rotterdam (2007); Whitechapel Art Gallery, London (2007) and Collective Gallery, Edinburgh (2006). Her work has been featured in film festivals and major international survey exhibitions, including the Berlin Biennale (2010) and Venice Biennale (2007) London Film Festival (2018, 2016, 2014). Salmon won the inaugural MaxMara Art Prize for Women in 2006, was recently shortlisted for the Jarman Award 2018 and the 2019 Margaret Tait Award.
Production: The Hunterian Art Gallery (Dominic Paterson)

Stage of development: in development