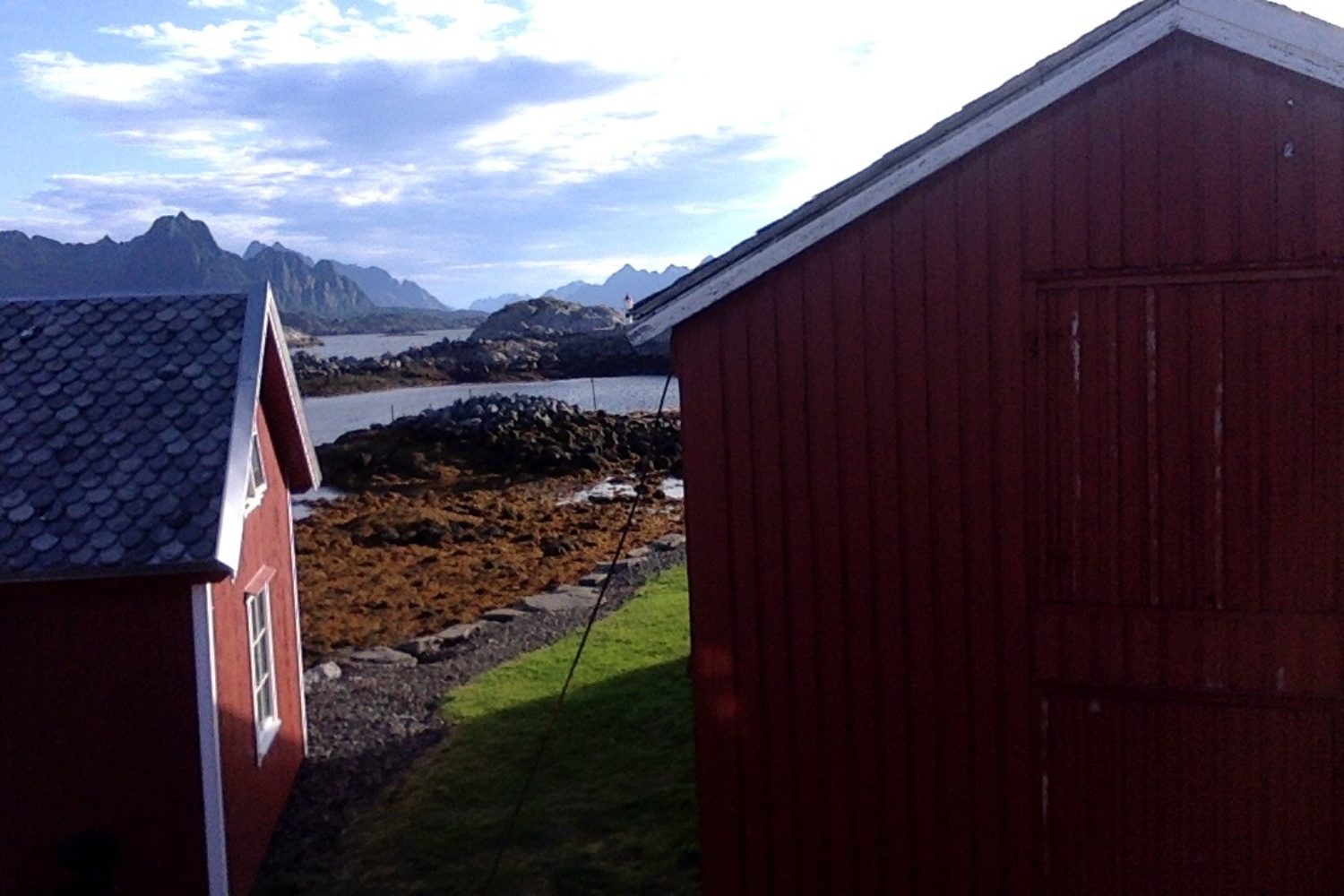 In Between the Cracks
A crack. 'A line on the surface of something along which it has split without breaking apart', says the dictionary. 'Something you can sneak through', says Mike Sperlinger.
We're sitting in a dark space with steep stairs, listening to the words by writer, professor and curator Mike Sperlinger.
We are artists, students who will become artists, academics, producers, programmers, curators, funders, and writers. And we are here to talk for two days about the production and financing of artists' moving image.
We're in an auditorium. A cinema space. Or both.
I'm here, amongst other reasons, because I have been working for the Belgian Contour Biennale, for the pilot edition of the European project On & For, for the Flemish artist-run production & distribution platform Auguste Orts, and because I work as a freelance writer, adviser and producer in the arts.
We're in a school in the south of an island, the largest one in a group of islands. Earlier on, I sent a picture to a friend, showing (off) how utterly beautiful it is here, outside the auditorium.
May I have this dance?
It's day one of the On & For symposium in September 2019, and Sperlinger introduces a synonym for crack: a gap — the one between the world, and thus the logic, of feature length film, and that of visual arts. How not to fall in between those two as an artist creating moving image?
Obviously, no correct answers exist, but several openings, bridges or safety lines manifest themselves throughout a panel discussion with artist Dora García, artist/producer/educator Katja Eyde Jacobsen, artist/producer/writer Olivier Marboeuf, and producer — 'just' producer — Anže Peršin.
The composition of the panel already is a statement on the hybrid nature of artists' moving image. Different players frequently combine different roles — often because of a lack of budget: artists become producers, curators produce works, etc. This combination of roles can be emancipating, leading to insights such as: Why not talk more about contracts? Why not introduce the logic of the artist in the administration?
Marboeuf likes to talk about the contract as a way of negotiating how to work together, of discussing the cultural capital of the work and adding poetry to the budget.
I'm thinking about all the contracts I've ever made, imagining a most welcome breach in these walls of paper. I'm also vividly reliving the time and effort it costs to collect all the necessary signatures via e-mail. (Remember when it took you ten minutes to copy-paste your signature in a stubborn template?) Does the endless administration damage our creativity? (I'm not even going to bother answering that one.)
So what about these cracks between film and visual arts? According to Peršin, they create a certain privilege, making it possible to benefit from different worlds. Later, somebody will call this 'the dance with the funders'. Dora García does not stand up and boogie, but agrees. She has learned how to navigate in between disciplines, and in addition in between the academic world (a crucial funder of artistic research) and public funders. She has learned to speak different languages while moving in between symposia and exhibition spaces.
Sounds familiar. For a film I'm producing, I've tried to convince the Flemish film fund about the intrinsic artistic qualities of the work and the relevance of the medium. I've argued the broad and international scope to potential distributors, the social relevance to potential not-for-profit co-producers and the local relevance to municipal funders, while emphasising the political relevance to a potential audience of students. This is dancing: adjusting to the rhythm of film and to that of the visual arts, to the different needs of different funders and allies. And then: move forward.
Close the door.
In the evening of the first symposium day, the artists practise their project presentations for the Work Sessions[1]. Herman Asselberghs will be talking about his project with the working title Film School Time. 'Close the door', Asselberghs says. 'Put something on the table. Open up the world. (Stop time.)'
I pause from writing this text and gaze at my desk. There's a small object on it: a walnut. It transforms into a memory. A boat? An island? On my writing table?
The island we are gathering on in September 2019 is called Austvågøy. It's part of the Lofoten archipelago in the north of Norway. All these art professionals have travelled to the small fisherman's town Kabelvåg. We came there by planes and some more planes, perhaps a boat, then a car. We travelled all this way to meet and talk about artists' moving image. And why? Because there's an artist-run film school in Kabelvåg, taking part in the European project On & For? Because there's a travel budget provided by the EU, making meetings like this possible? Because this is an opportunity to exchange knowledge and network? Because we can?
I take the walnut, but I cannot eat it. So that's it: we need to open up hard matter before a crack can even exist. Hard matter: applications, definitions, limitations. Funding, categories, templates. Always lacking time to stop and reflect on what we are doing. Time is money, even though we try to resist that idea. But at the end of summer, we travel to a remote group of islands to gather in a dark space in a school to reflect on how we do the work.
I remember the coffee breaks on the island. Talks with a kind, intelligent young woman from the Flemish arts administration. We agree it's important to talk. We also agree it's quite outrageous we've had to come all this way in order to do that.
I don't think this is what Peršin meant with the privilege in between the gaps, but it sure felt like a strange and very questionable privilege to be there. Do we really need the lure of remote islands to meet and talk? Looking at the small but thick shell of the walnut in front of me, I think of a long list of artists and filmmakers who do not have the privilege to travel wherever they want whenever they want, lacking stamps, visas, European passports. Rarely can they break through the bureaucratic system that keeps them far and away.
And now, in the midst of a pandemic, my writing table, too, becomes an island. To reach other lands, whether faraway or nearby, you need a strong, stable internet connection. A laptop. And some imagination.
But at the island, during the symposium, there is no talk about waves of contagion, social distancing or a virus. There are just the waves of the sea. Steep rocks in the distance: irregular, serrated, sharp. In the early morning, they seem grey with a pinkish glow; in the sunlight they become paler and smoother, while the shadows of the afternoon render them dark, carved. Often, they're barely visible in the rain and the island seems to float in a foggy mass.
At the funders' table
On day two of the symposium, I end up at the funders' table because I'm there as a representative of Flanders Arts Institute, the platform in between the Flemish government and the arts sector. I'm sitting amongst agents from the Norwegian Arts Council, Creative Scotland, Arts Council England, Flanders Film Fund and Creative Europe Norway. (Hi, I'm Natalie. Freelance this and this and that.) Just about as literal as dancing with the funders could be.
There's a lot of awareness at the table about what could be done better, such as an improvement of application procedures. Often, they don't leave enough space for the nature of the artistic work to be rendered. In general, the group agrees on the urgency of connecting more to artistic practices: funders and artists sharing time and space. Also, there's an apparent need for exchange between different administrations on a European level, and even in between funding bodies on a national level. But, according to the agents, this can only be fulfilled when there's a top down strategy, freeing up budget and working hours for these exchanges.
It's bittersweet, listening to a bunch of good intentions. We're sitting here because a handful of highly professional but small-scale and mainly artist-run organisations joined forces and obtained European funding to gather and exchange. Because they invited the funders to this table. Bottom-up. Which is great, but what does it say about our policy makers and the responsibility they assume?
We need cracks in between which we can work and move freely, but the fragmentation that comes along with them has its limits, leaking energy from smaller players.
Open up the world
I crush the shell of the walnut. Little pieces fall out, unevenly coloured, irregular, varying from the smoother texture of the kernel to the papery bits that serve as a partition. This is the essence.
Maybe that's what Olivier Marboeuf meant with introducing poetry in the budget: never lose sight of the core – the artists and their work, around which we gather on the island. How can we create a specific context that arises from their way of working, their artistic needs and the different shapes their practices take?
This question is not a new one of course. What we now call artists' moving image arises from a long tradition in which artists have worked on the verge of visual arts and cinema. Especially in Flanders, we can move rather freely in between these disciplines, as María Palacios Cruz writes in her essay Let me be your guide: Artists' Moving Image in Flanders. But what is new, certainly in most Scandinavian and Western European countries, is the ever-rising pressure of professionalisation: an increase of the hard matter. A fragmented bureaucracy imposing different logics onto artists. And, sometimes, an instrumentalisation of art.
There's not just a noun, but also the verb 'to crack': to break without complete separation of the parts, says the dictionary. A warning against uniformity, without losing a complete sense of wholeness that the hopeless fragmentation of systems and means often causes. A new sense of togetherness when we open up our individual worlds.
A crack in time
Recently, I read Underland: A Deep Time Journey by Robert Macfarlane. Suddenly, there they are: tiny red figures, hands and legs spread out. They are known as the red dancers, painted with iron oxide powder on the walls of caves that were once carved out by the current, two or three thousand years ago. The people who painted the figures were nomadic fishers and hunters-gatherers. 'They must have lived short, heavy lives, probably with little opportunities for making art', writes Macfarlane.[1] One of the most remote caves is actually situated on the Lofoten islands, about 130 kilometres from Kabelvåg. You can only reach it by boat, risking a notorious current, or by foot, passing the steep mountain ridge called the Lofoten Wall. Macfarlane chose the latter during winter. The people who made the paintings took enormous risks to reach the caves, he mentions. But his path is strenuous as well.[2] And then he arrives at a place where two worlds meet: land and sea.[3] And somehow, ages ago, people found an opening there — a crack in time: 'The red is rough at the edges, flows into the rocks from which it emerges, faded by water and condensate, and all these circumstances — the fading, the weak light, my fatigue, my blinking eyes — make the figures come alive, changing shape on this many-sided canvas'.[4]
And it is a different crack in time — a symposium — that makes it possible for us to gather around the artists and their work in Lofoten: Ellinor Aurora Aasgaard, Zayne Armstrong, Duncan Marquiss, Dora García, Herman Asselberghs, Lene Berg, Deborah Stratman, Knut Åsdam, Dan Ward, and all the others that are present. In between soap operas and community building, Artificial Intelligence and animal behaviour, film students and teachers, socialist feminism, in between black, white and colour, in between recording and inventing, shifting in between forms and switching in between speed and mood, 'multi-voiced, multi-formed, and multi-layered'.[5]
An island. An opening of possibilities. And in between, we work. In between, we meet.

Natalie Gielen works for Etcetera magazine for performance arts, and as a freelance writer, adviser and producer in the arts.