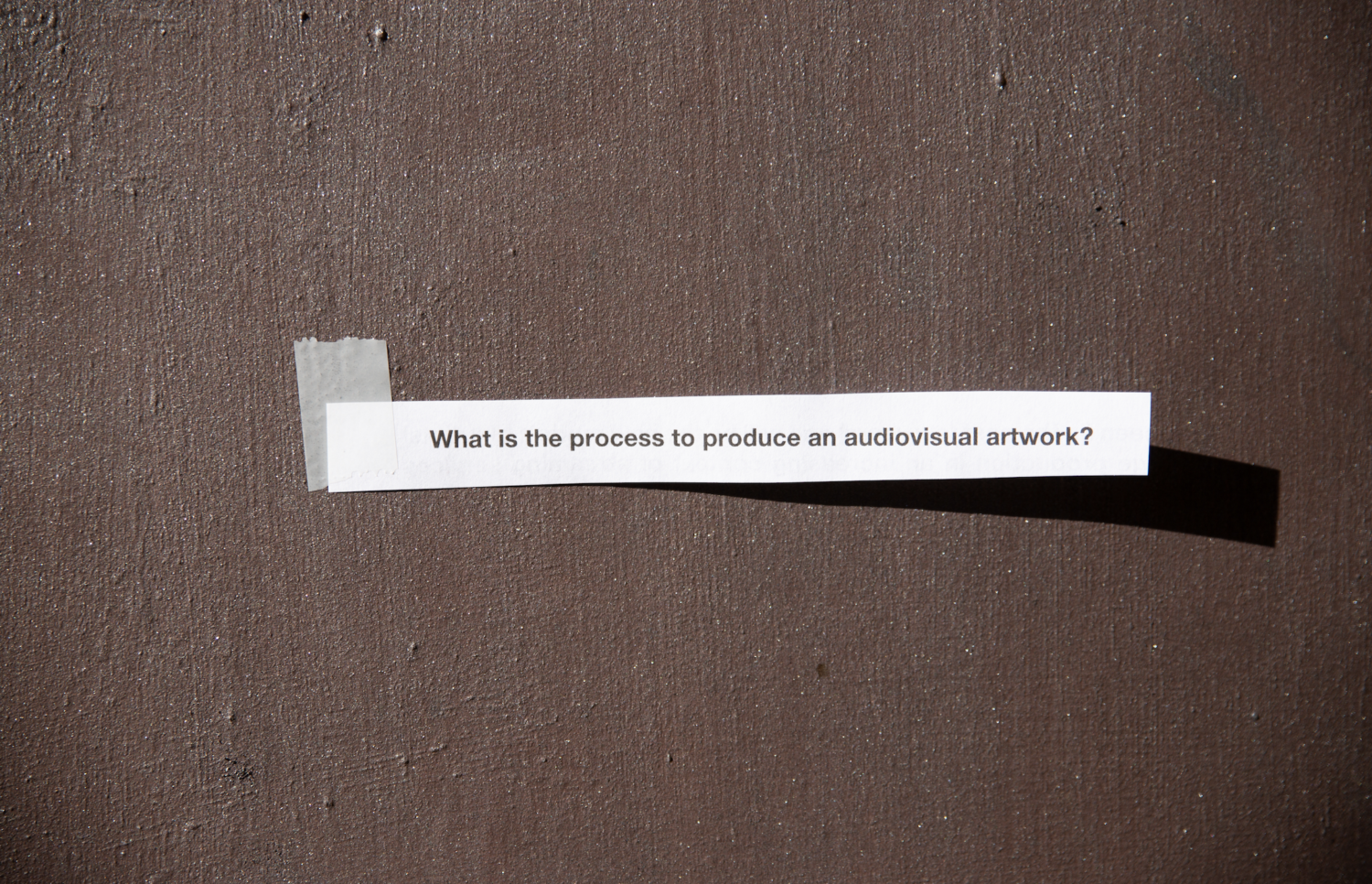 We do not travel alone: a reflection on film production
"On the journey of producing films, we - artists and filmmakers - do not travel alone. To strive for fair pay for artistic labor, we need to involve ourselves in building and maintaining fair practices. And the producer, our travelling companion, extends a welcoming hand."
1. The conundrum of self-production
I am writing this text in my living-room-turned-studio, which I share with my flatmate, a visual artist who also makes videos. I consider myself a writer and filmmaker — and a "dummy" when it comes to film production. During my Master's studies, I mostly filmed with my own camera and edited on the computers at the academy. After graduation — and exacerbated by COVID-19 uncertainties — my home became my ad-hoc studio. The only production with which I am familiar is self-production: a process where the maker assumes responsibility for all aspects of the work, from researching to writing, from assembling a crew to clicking the "export" button after a third "final" edit.
Ellen Meiresonne, production manager at Atelier Graphoui and one of the presenters at the ​Production for Dummies workshop, captures self-production in pragmatic terms: to self-produce is to "provide your own logistic support on top of artistic effort and build your own platform of production and distribution."
In self-production, "you have quite a lot of freedom, but also quite a lot of work beyond the artistic practice," says Andrea Cinel, curator at ARGOS Center for Audiovisual Arts and another presenter. Over time, self-production can become unsustainable for the artist and filmmaker. Apart from my own experiences, I have witnessed many artist friends spending days, if not weeks, applying for funding and submitting to festivals by themselves. It is easy to talk about success when someone receives a positive decision from a funding body or a letter of acceptance from a partner institution. What we do not acknowledge — at least not enough — is the constant, invisible work and the reality that artists are undervalued and un(der)paid.
Current art education has glorified the image of the "do-it-all artist" who is expected to not only research, make, reflect, but also self-organize, self-distribute and self-promote. Film schools might offer more structure and encourage more teamwork. However, once a person graduates, the shelter of the institution disappears; the network, as well as access to necessary equipment, dwindles. Some of us have not worked with producers because we don't know where to start.
It's a paradox: the artists are dying for support without knowing what support can look like.
The workshop bridges this knowledge gap. Ellen Meiresonne and Andrea Cinel, along with Alice Lemaire (producer at Michigan Films), share their experience as producers with generosity. As we gain a more transparent and concrete picture of production and the relationship between the filmmaker and the producer, we can start asking ourselves what the producers encourage us to think about throughout the workshop: how far do we want to be independent?
2. Production as support and care
In Ellen's words, "producing a film is a long journey."
When I think of the ingredients of a physical journey, I think of planning, detours, discovery. I think of times when I just had to board a night bus and spend the night sleepless, wondering why on earth I was still on it. On the journey of production, the producer is a knowledgeable travelling companion. (Myself and others accustomed to self-production? The inexperienced travellers.)
Andrea and Ellen summarize the producer's support in four areas: artistic, logistical, financial and legal. One of the case studies produced by Atelier Graphoui, ​Un Amour Rêvé​, demonstrates the lengthy and diverse support a film requires. The production period of this hybrid film lasted six years. Other than offering support during its initial development, the producer helped re-navigate the project when an early funding request was rejected and when filming in relevant locations was no longer possible. Such obstacles would be difficult for a filmmaker to handle without guidance.
Both Ellen and Alice emphasize the "relational dynamic" between the filmmaker and the producer. "It is important to seek understanding with the producer, not viewing them as an antagonistic 'money person'. Most producers for artist moving images are idealistic and are willing to be constructive across the stage of the project," says Ellen.
I find the following remarks from the workshop illuminating —

Alice: ​I would like to [review a project] with care. A production can be 2, 3, 4 years.
Ellen: ​2, 3, 4 years working with [one] person. It's not a commission of the ministry. It's a personal, long-term relationship.
The producer invests in a project over multiple years — I have not realized this until now. In self-production, I have not worked (or have not been able to work) at this scale.
I pause and elaborate this realization:
The producer invests care, resources, tangible and emotional labor in a new project — and the filmmaker — over multiple years​. Under this framework, the relationship between the filmmaker and the producer is a mutual commitment.
However, other than new, high-stake projects, a producer can also support projects-in-progress based on the filmmaker's needs. For instance, Atelier Graphoui offers "creative human resources and a production space" and "provision[s] the project leaders with equipment or audiovisual facilities."1​
Knowing the different kinds of available support, we can reflect on the relationship we want to have with a producer. Regardless of the answer, the conversation starts with our understanding of the producer's work. To that end, Andrea suggests "get to know the field, check out who's producing what and who's funded by VAF [and other funding bodies]."​2 Ellen underlines sending out emails in a personal way, showing awareness of the potential match between the filmmaker and the producer.3​
3. Production as education and dialogue
Through the production process, the project takes on a life of its own. Rather than the solitary author, the filmmaker becomes a contributor. The shift from self-production to working with a producer requires the filmmaker to stay flexible and, if not already, learn to work through changes.
"We see production as a pedagogical process," says Ellen, "[first-time filmmakers] see the budget and make choices accordingly."
These choices can take forms in "shooting media, camera, sound, data management [and] software." Some choices — such as shooting media and sound — are both logistical and aesthetic decisions. When discussing how much impact the producer has on the aesthetics of a project, "dialogue" is a keyword. "The producer is not your enemy," says Alice, "the producer provides options and we make artistic choices together."
While allowing for more options, new resources can mean new constraints and negotiations. Most funding comes with conditions; examples include hiring a local crew or spending a percentage of money in a certain region. In the case study of ​OJO GUAREÑA​, produced by ARGOS, one of the partners requested a scene filmed with snow, which meant waiting for the right weather conditions and subsequent accomodations in the filming and reporting timeline.
The producer helps keep track of the progress of the project and, necessarily, safeguards its intention. Ellen highlights the importance of a "fundamental dossier" which documents the filmmaker's intention in the beginning of the production process. The filmmaker and the producer can thus refer back to this document when developing materials for different potential partners.
In the production process, the filmmaker also learns to navigate through distribution of the film and valorization of time and labor, aspects that are often murky in self-production. "It's not a matter to find a large public, but a good public for your film," says Ellen.4​ ARGOS, as a distribution platform and an archive itself, also maintains relationships with filmmakers.
As for valorization, Ellen says, "I try to valorize time. If a project comes to us at post-production, I will valorize what the maker did before. I'd like to give value to things." In ​Un Amour ​Rêvé​, for example, the filmmaker was compensated for the archive materials and research conducted prior to the production.
4. Towards a more sustainable practice
In fact, we can all probably use a little more of "giving value to things." Exploitation in the arts and culture comes from a lack of transparency and a (perceived) power hierarchy. Self-production based on working for free, or very little, leads to more exploitation in the system.5​
Alice advises filmmakers "to have different projects at different scales." While one project would require a producer, other smaller projects can serve as showcases. Working with a producer enables us to produce at a larger scale — it educates us about how the system works and, more importantly, updates our agency to participate in it critically.
On the journey of producing films, we — artists and filmmakers — do not travel alone. To strive for fair pay for artistic labor, we need to involve ourselves in building and maintaining fair practices. And the producer, our travelling companion, extends a welcoming hand.
About the author
Jue Yang is a writer and filmmaker currently based in Rotterdam. She is a contributor to the art magazine Metropolis M.
[1] From Atelier Graphoui's website: ​https://graphoui.org/en/a_prop...
[2] VAF: Vlaams Audiovisueel Fonds. Funding has implications on the types of projects the producers are capable of supporting. A list of different funding bodies in Belgium can be found on On & For's webpage, which also hosts the video of the workshop: https://onandfor.eu/documentat...
[3] ​Open calls provide structured, equal access to a producer. Atelier Graphoui posts an annual open call for production focusing on novice filmmakers. ARGOS started an open call initiative in 2020 and has produced works proposed by artists who are new to single-channel films.
[4] ​On & For has organized a separate session on distribution in 2019, including the workshop ​Distribution for Dummies alongside the ​Distribution Models program. Details at: https://onandfor.eu/programme/...
[5] Those who can afford to work this way are in a privileged position. Artists who cannot afford to work for free do not have as much time for getting visibility and external support due to other commitments. This is a form of inequality to which many of us unknowingly contribute
Image courtesy Maxime Gourdon and Juliette Le Monnyer.