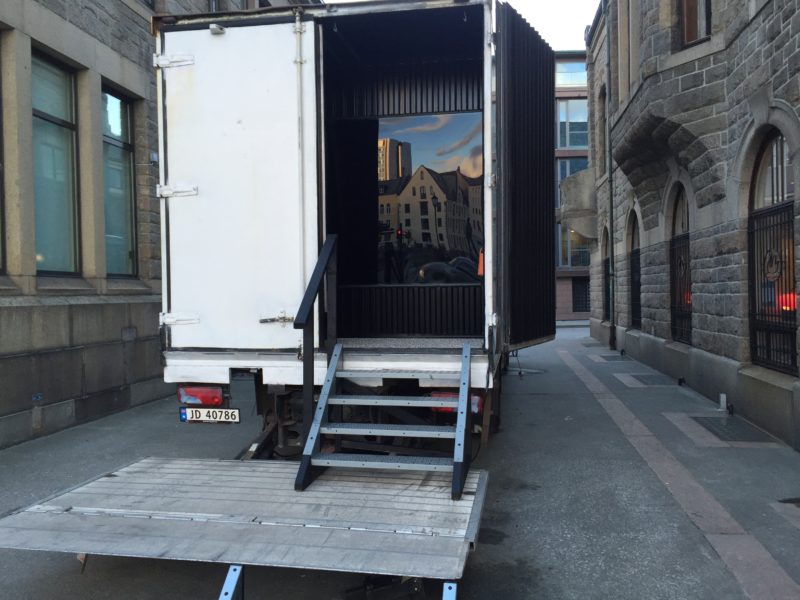 Case Studies—Online, 2021
20 April 2021 - Kunstnernes Hus, Oslo
A collaboration between On & For Production and Distribution and Kunstnernes Hus Kino (Oslo)
Across five videos released weekly on Kunstnernes Hus Kino's website, a series of invited Norwegian organisations and networks involved in creative audiovisual distribution will share knowledge to illuminate the variety, particularities, audiences, contexts and needs they are immersed in and respond to.

The video series will culminate in an online roundtable, Distributed Futures: Alternative Circuits for alternative films?, bringing together new Norwegian initiatives in a conversation chaired by Mike Sperlinger (Oslo National Academy of the Arts) with contributions from LIMA (NL) who are themselves drawing to the close of a long-term investigation into artists' moving image and digital art distribution. The panel will take place on zoom on April 20th and is open to all. You can join the zoom panel here.
About the organisations
Kunstnernes Hus
Kunstnernes Hus Kino, part of the artist-owned foundation Kunstnernes Hus, opened in 2016. The program is curated with a cross-disciplinary and genre-critical approach, always placing the artist at the centre, and consists of a wide spectrum of contemporary independent and artist films, talks, lectures and curatorial collaborations. We emphasise artistic boldness and genre-bending formats as well community-building across disciplines and generations. In 2018, the Film Club LEO for youths aged 13-18 was founded, sharing the same ambitions, while being programmed by its own members.
The streaming service Kunstnernes Hus Home Cinema was launched during the pandemic, and will become a permanent extension to the on-site program, focusing on increasing the availability of contemporary Norwegian artist films. We take an active part in finding solutions to the need for better systems of distribution, in the cinema as well the digital arena.


The Sámi Film Institute / Sápmifilm
The International Sámi Film Institute is dedicated to providing Sámi people with the skills and economic opportunities in developing, producing, and distributing Sámi films in the Sámi language. In addition, the ISFI is an institute for promoting cooperation and encouraging productions with other Indigenous filmmakers and organisations internationally.

Sápmifilm is a streaming service established by ISFI in 2018 offering a unique collection of Sámi as well as other Indigenous films in various formats. The service is currently available in Norway, Sweden and Finland.

Their video runs 07/04/2021 to 07/07/2021 and is available here.
The Arctic Moving Image Festival
Set in the spectacular Arctic scenery, next to the town of Harstad, this festival offers groundbreaking film and moving images made in the Arctic and internationally, and hosts talks, discussions and workshops. It also combines conventional film and 'moving images'; video-art, experimental film, time-based installations and sculptures, and allows to explore the space where cinema and gallery meet. Its focus overarches film archives from past to the future and different media (TV, film, smartphones, internet…).
Their video runs 17/03/2021 to 17/06/2021 and is available here.
Jack Film Agency
Jack Film Agency is a newly established agency for film distribution. Jack is developed from the environment at Nordland School of Art and Film and mirrors their occupation with the need for a rethink and rework of ways of distribution. Jack's work is focused on spreading artist and independent film to new arenas throughout the country, expanding the conversation on and public relevance of film as well as strengthening the artist's right of disposal of their own work and contact with both screening spaces and audiences. Initiators are Lene Berg, Knut Åsdam, Marin Håskjold, Mariken Halle, Katja Eyde Jacobsen, Magnus Mork, Guro Bruusgaard and curator Cato Fossum.
Their video runs 24/03/2021 to 24/06/2021 and is available here.
Nordland kunst- og filmhøgkole
Situated in the Arctic Circle in northern Norway, NKFS offers a BA in moving image. Rather than a traditional film school, NKFS is an art school educating artists specialising in moving image. This approach is characterised by a deep reflection on the language and methods used, and a critical and creative approach to film conventions. The school is also active nationally in the discourse on new methods of funding, production and distribution reflecting the growth and needs of this field of film practice. The school is intended to function as a meeting place, and to challenge the status quo through new thinking and practices.
LIMA
LIMA is the international platform for sustainable access to media art. LIMA distributes, researches and preserves media art. LIMA offers distribution services to artists and digitization services to museums, collectors and artists, and has a fully functioning digital repository for the storage of digital art. Herein, a major part of the digital collection of the Netherlands is preserved for future presentation at LIMA.
Image credit: Jack Film Agency commissioned video.