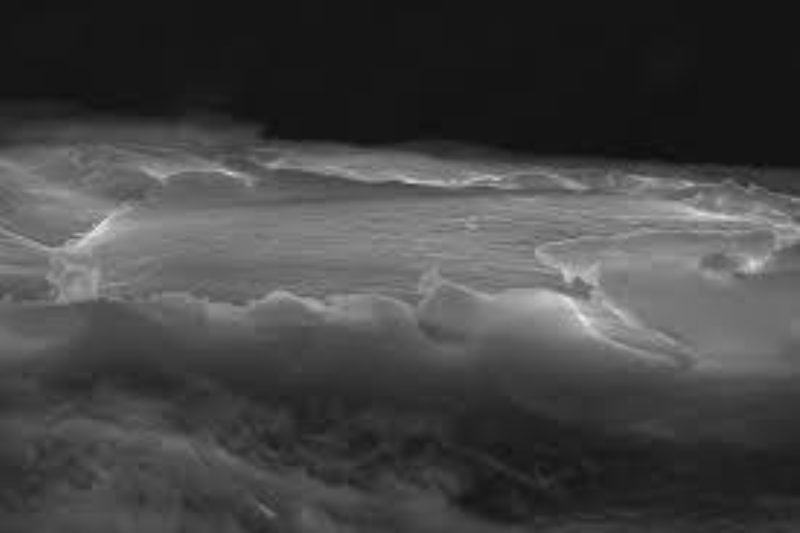 Atlas © Anouk De Clercq
Atlas by Anouk De Clercq
The image in space, the spatial image, the imagined space and the space of the image: spatiality is a key concept in the work of Anouk De Clercq. It is from the perspective of continuing this trajectory that a new project, called Atlas, proposes to chart space on the tiniest scale.
For Atlas, she will work with images generated by an electron microscope, which uses a beam of accelerated electrons as a source of illumination. The electron microscope has a higher resolving power than a light microscope and can reveal the structure of smaller objects (magnifications of up to about 10,000,000x). It is a similar scanning technique as used in Thing – a remote sensing technology that measures distance by illuminating a target with a laser and analysing the reflected light – but then on a very different scale. This time, she explores the other end of the spectrum: from an outward, almost alien perspective, to an intimate, almost introspective viewpoint.
While the images are mechanical and the result of an intelligent machine skimming the surface, the text will guide us, organise the journey and try to pierce the surface. In other words, Atlas is also a linguistic journey. The text is the backbone of this project, and tells of architecture, scale, ways of seeing, the joy of searching without really finding, and will be made visible in between the images.

ANOUK DE CLERCQ studied piano in Ghent and film at the Sint Lukas Brussels University College of Art and Design. Her works explore the audiovisual potential of computer language to create possible worlds, many of which have a strongly architectonic character. She has received several awards, including the Illy Prize at Art Brussels in 2005 and a Prix Ars Electronica Honorary Mention in 2014. Her work has been shown at Tate Modern, London; Centre Pompidou, Paris; Museo Nacional Centro de Arte Reina Sofía, Madrid; MAXXI, Rome; Centre d'Art Contemporain Genève; International Film Festival Rotterdam and Ars Electronica, among others. Anouk De Clercq is affiliated with the School of Arts University College Ghent as an artistic researcher. She is a founding member of Auguste Orts and is represented by Gallery Sofie Van de Velde.