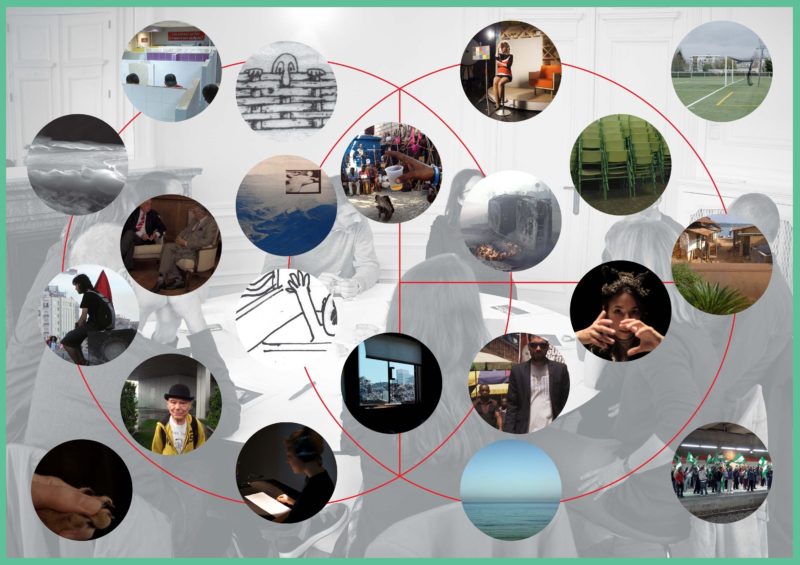 Screening & Publication Launch—Brussels, 2016
24 November 2016 - Beursschouwburg, Brussels
CLOSING EVENT of ON & FOR PRODUCTION 2014-2016 and PRESENTATION of the ON & FOR PRODUCTION PUBLICATION


On & For Production (2014 to 2016) is a printed memory of the On and For Production sessions, aimed at sharing the experiences that were gathered over the course of the initiative. The publication brings together a series of commissioned texts by artists, curators and researchers for each On & For edition. The authors—María Palacios Cruz, Gil Leung, Colin Perry, Werker Magazine, Émilie Bujès and Antonio Gagliano—were each invited to attend a complete edition of On & For, and to then translate into text, image or other formats what they saw and heard. Published as a whole, the pieces created now function as a diary of the initiative's evolution over the last years. On & For Production (2014 to 2016) was launched on 24 November 2016. The editor, Anna Manubens, presented the publication launch at the Beursschouwburg in Brussels during the celebratory evening 10 Years Auguste Orts.
A free digital download of the text and poster.
Table of Contents
'Introduction' by Anna Manubens
"There was a general sense that something special had been achieved, something that ought to be continued." Brussels, 25 and 26 April 2014 by María Palacios Cruz
'It takes 200 actions'. Brussels, 24 and 25 April 2015 by Gil Leung
"The production of artists' moving image is as much a pragmatic operation as it is an ongoing discursive process." London, 14 and 15 October 2015 by Colin Perry
http://www.werkermagazine.org/...Brussels, 21 and 22 April 2016 by Werker Magazine
'Infinite Pitch'. Madrid, 27 to 30 June 2016 by Émilie Bujès
Untitled (5 drawings). Madrid, 27 to 30 June 2016 by Antonio Gagliano

On this occasion, three new Auguste Orts productions that were supported by On & For Production were screened: Atlas by Anouk De Clercq, For Now by Herman Asselberghs, On a Clear Day by Robbrecht Desmet.
On & For Production is initiated by Auguste Orts (BE) in collaboration with LUX (GB) and CA2M (ES). With the support of Creative Europe Programme of the European Union. This event is kindly supported by the Flemish authorities, Flemish Community Commission, Flanders Audiovisual Fund.