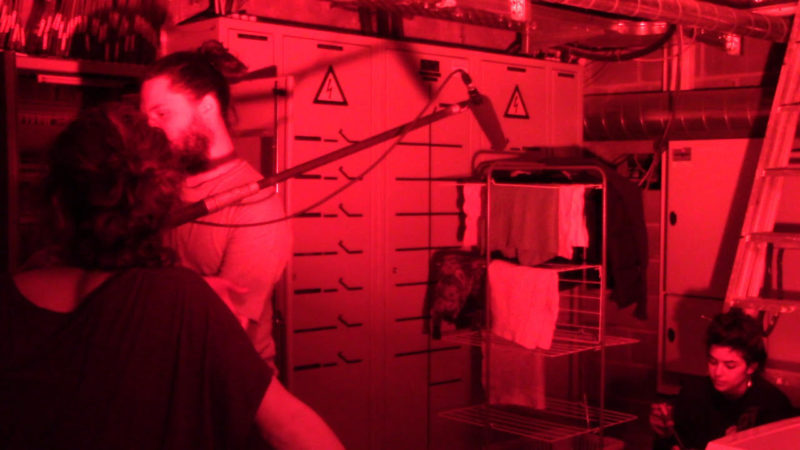 Film School Time © Herman Asselberghs
Film School Time by Herman Asselberghs
Film School Time (FST) aims at probing the extended time period of attentive waiting that is crucial to the learning environment of school. The film assembles scenes gleaned over two to three academic years within the MA program in film directing at the Brussels campus of LUCA School of Arts. Wavering between observation and intervention, between documentation and invention, and fusing the lyrical and the critical, this long-term project seeks to install a state of time suspended as well as offer a portrait of young people at work in the contemporary knowledge factory.
The film hinges upon the notion of the classroom carrying the potential to open up the world, to arouse interest through establishing an indeterminate time in which an awaiting attention can materialize without any direct pragmatic outcome. Countering received ideas about the school classroom as a confined space for docile listening to authoritative speech or as an obsolete info-com medium already upstaged by various types of hyperfunctional e-learning, FST aims at making present the core of educational time-space: it is all about becoming attentive for a prolonged period of time.
Cinema seems a fitting place to talk about the classroom. Both apparatuses politely, or mandatorily, ask to pay attention. They thrive on focus and absorption. On surrendering to curiosity. On participation as well, for intently watching and engaged listening are not passive activities. Spectators and students alike slip into a stand-by mode of receptiveness, extendedly alert to whatever happens next. But what happens to patient attentiveness when everyday functionality and executive time cannot be kept at bay? When instant interruption — actual or anticipated — is a given at all times? When this text message demands to be read and answered right here and now? Could it well be that diversion and distraction are (part of) the new attention? And what about sleeping (in class, in the cinema) as a radical form of resistance to the built-in tyranny of the apparatus? Sleeping as opposition and objection? As appropriate disobedience and stubborn rebellion? Sleeping as a revolt?
These are some of the questions that steer FST as the filmmaker collects and creates moments of intense focus inside the art school where he has now being teaching for more than two decades. Documenting the students while they participate in workshops, filming them when shooting and editing their graduation works or writing their final essay, engaging them in conversations in front of the camera, recording them during breaks in between classes, studying them when handling their smart phone, when watching a movie on their laptop, when sleeping… These are just some of the methods used in filming, with full cooperation from the MA-students. Engaging some of them at times as camera and sound persons while also working with established film crews, and deploying both consumer and high-end equipment (including smart phones), the filmmaker aspires for a hybrid film that shifts in form and switches speed and mood. The multi-faceted world of school life requires a heterogenous outcome, multi-voiced, multi-formed and multi-layered.
FSTis part of the doctoral research carried out by Herman Asselberghs within the Intermedia Research Unit of LUCA School of Arts. Throughout the creation process, he reports on his accompanying reading and writing. Exploring the relationship between attention and distraction in the film theatre and the classroom, he selects, on a regular basis, an existing text that interests him and that he himself provides with an accompanying text. In a first instalment, he focused on 'Leaving the Movie Theater' by Roland Barthes. The second one will examine the first chapter of Don DeLillo's novel Point Omega. The text series is published by the online film magazine Sabzian.
HERMAN ASSELBERGHS (°1962 in Mechelen) is a Belgian artist whose work focuses on the questioning of border areas between sound and image, world and media, poetry and politics. His installations and videos have been shown at Tate Modern; Centre Pompidou, Paris; documenta X, Kassel; Deitch Projects, New York; CGAC, Santiago de Compostela; hartware, Dortmund; Witte de With, Rotterdam; Netwerk, Aalst; M HKA, Antwerp; Van Abbemuseum, Eindhoven; International Film Festival Rotterdam; Internationale Filmfestspiele Berlin; FID Marseille; EMAF Osnabrück; Medien- und Architectur Biennale Graz; Rencontres Internationales Paris/Berlin/Madrid. In 2007 he won the Transmediale Award in Berlin. Herman Asselberghs, who has published extensively on film and visual culture, teaches at the film department of Hogeschool Sint-Lukas Brussel. He lives and works in Brussels.