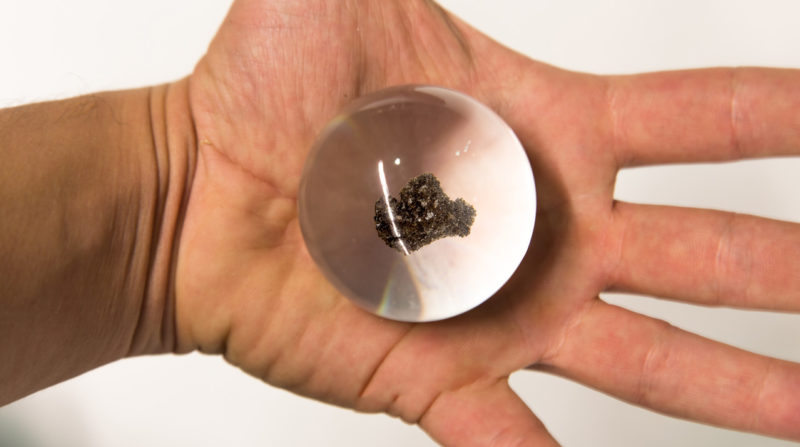 © Santiago Reyes Villaveces 2020
Goodwill Moon Rock Project by Santiago Reyes Villaveces
Co-written by Santiago Reyes Villaveces and Ilona Jurkonytė
Fragments of the Moon were brought to Earth during the Cold War Space Race. This film is about the Moon on Earth and possible futures of exoplanetary ecologies.
With colonisation patterns being replicated in the context of the Moon explorations, colonial tropes are reintroduced and perpetuated. Even if seemingly extra-terrestrial colonization has no colonial subject, colonial dynamics are being reflected back on Earth. Definitions of globalization and exoplanetary expansion are determined by tendencies of profit-oriented economies as looming ecological disasters are coming into play.
Whilst human beings are building multi-planetary systems, injustices that are being introduced with this venture cease being exclusive subjects of sci-fi exploration and have to be thought of in relation to the reinvention of legal systems, visual regimes, and human and non-human relations.
This collaborative counter-cartographic audio-visual project maps the dispersion of the Moon on Earth, with the goal to explore untold histories and imagine alternative futures.
The Goodwill Moon Rock Film Project is part of the artist Santiago Reyes Villaveces's broader Goodwill Moon Rock Project that exists in the shape of the ever-expanding Goodwill Moon Rock Archive, sculptures, installations, performance art and a series of graphite drawings.

SANTIAGO REYES VILLAVECES is a Colombian artist whose practice explores sculptural and post-sculptural processes. His practice includes installations, sculptures, drawings, prints, archival fictions, and performative actions that forge speculative relations. Santiago's site-specific work focuses on transformation, determination, modification, and interference in the spaces in which it operates. His multi-faceted research includes conceptual and historical material, and participatory aspects. His work can be characterized by notions of tension, suspension, scale, volume, weight, gravity, surface, pressure contention, resistance, depth and limit. Santiago is particularly interested in how these elements produce effects in relation to a spectator in space. Santiago's medium varies from moving image to neon, from printed matter to sculpture and readymade objects. His current projects revolve around mineral histories. Blending questions of geopolitics of spatial conquests with critical engagement in colonial histories, his work generates attention to knowledge production.
In 2019, he was the winner of the Matteo Olivero Award (Italy), which resulted in a permanent site-specific installation at Sacrestia di Saintignatzio, called Harp, in Saluzzo (Italy). His works and projects have been presented in public and private spaces in South America, North America, Europe and the Middle East, including Koksijde Kunstwerken (Belgium, 2019); Museum of Anthropology Murcia (Spain, 2019), Academiae Youth Art Biennale in Bolzano (Italy, 2017); solo exhibition Reside in Marie Laure Fleisch Gallery Brussels (Belgium, 2016); the site-specific project Traino at the Cavallerizza Reale in Turin (Italy, 2014); the site-specific project Monuemetria at the Pinacoteca do Estado de Sao Paulo (Brazil, 2009), developed with the collective Delenguaamano; and New Names at Museum of Banco de la República in Bogota (Colombia, 2013).
In 2015, he was the Abraaj Royal College of Art Innovation Scholar as part of his pursuit for an MA in Sculpture at the Royal College of Art in London (UK, 2017). Santiago holds a BA degree in Visual Arts and History and Theory of Art from the Universidad de Los Andes in Bogota (Colombia, 2009). He lives and works in Bogota and Ambalema in Colombia.

ILONA JURKONYTĖ is a Lithuania born film and moving image researcher and curator currently based in Montreal, Canada. She is Vanier Scholar at Concordia University, where she is pursuing a PhD degree in the Film and Moving Image Program. Her background is in philosophy, communication studies, and art theory. Ilona's academic research and curatorial practice inform each other. Her work critically examines tensions between notions of the national and transnational in moving image production and circulation, as well as their geo- and hydro- political implications. Her research interests include the analysis of military imaging and mapping, film and media participation in hydro-spatial politics, neocolonial tendencies, and she is actively researching the potential of film and media and how they can render the space of counter-politics to violence . Besides her curatorial and academic engagement, Ilona works as a story editor and script consultant. She is particularly interested in the potential of artists' moving image and what it can bring to audio-visual cultures.
Ilona is Co-founder (2007), Managing Director (2007-2012) and Artistic Director (2007-2019) of Kaunas International Film Festival (Lithuania), which was instrumental in rescuing Romuva, the oldest cinema theatre in Lithuania. Before starting her PhD studies, she worked as Film Program Curator at the Contemporary Art Centre Cinema (Vilnius, Lithuania).

Production: Ilona Jurkonytė