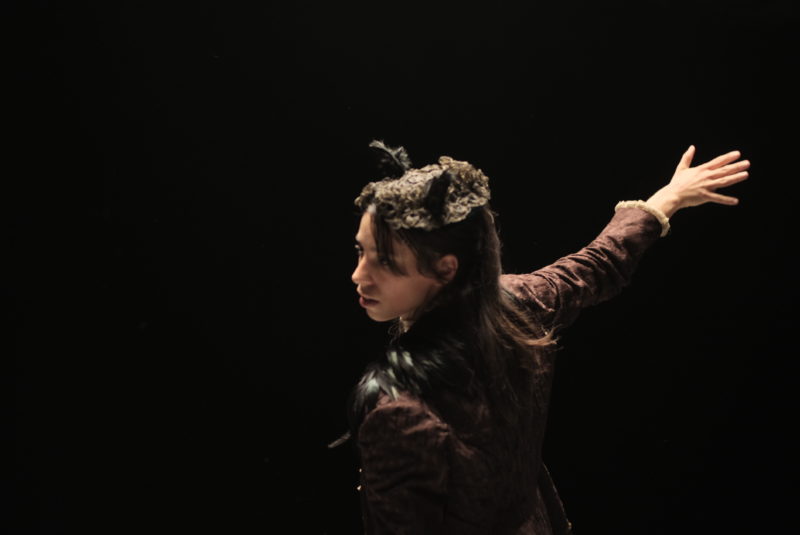 Maybe this act, this work, this thing © Joachim Koester
Maybe this act, this work, this thing by Joachim Koester
The film is set in the late 1890s. The set could be a theater, an apartment or a distinct "psychic architecture." In this setting a group of Vaudeville performers are rehearsing an act. They are channeling the spirit(s) of the newly developed cinematic apparatus, miming the machine, embodying the machine. As the spirit(s) enter they are transformed into cogs and wheels and moving belts. The grinding momentum of their movements creates a sense of extended urgency. Their movements are accompanied by occasional moaning; like squeaks of metal and sizzling of hard rubber. This is a truly revolutionary technology. The Vaudeville actors "fall" into poses like old photographs that have suddenly come alive. Great holes are poked in space and time. These are the holes they try to slip through in their attempt to utilize the forces unleashed.
(working title: In Some Way or Another One can Protect Oneself From Spirits by Portraying Them)

JOACHIM KOESTER is an artist born 1962 in Copenhagen, Denmark. His works has been shown at Documenta X, Kassel, Johannesburg Biennale, Kwangju Biennale, Venice Biennale, Busan Biennale, Manifesta, Trento, Tate Triennial, London, Taipei Biennale, Taiwan as well as in solo shows at Centre national de la photographie, Paris, Statens Museum for Kunst Copenhagen, CASM, Centre d'Art Santa Monica, Barcelona, Palais de Tokyo, Paris, Moderna Museet, Stockholm, Museo Tamayo, Mexico City, The Power Plant, Toronto, Kestnergesellschaft, Hanover, IAC,Villeurbanne, MIT, Boston, Charlottenborg Copenhagen, S.M.A.K, Ghent, Belgium, Camera Austria, Graz, Centre d'art contemporain, Geneva, Greene Naftali gallery, New York, Galleri Nicolai Wallner, Copnehagen and Gallery Jan Mot, Brussels. Koester was shortlisted for the Hugo Boss Prize in 2008 and received the Camera Austria Award for Contemporary Photography by the City of Graz in 2013.