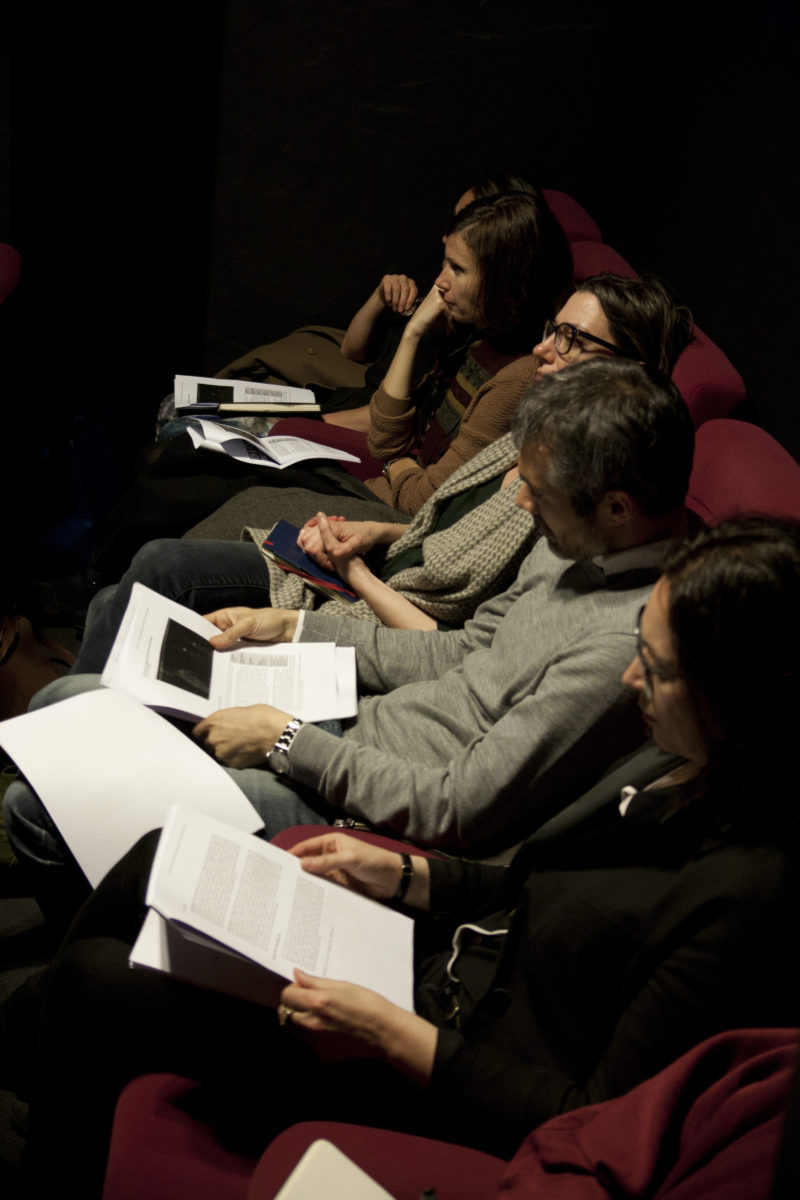 Work Sessions—Brussels, 2015
25 April 2015 - Flanders Audiovisual Fund | vlaams audiovisueel fonds (VAF), Brussels


The Work Sessions provide a platform for artists to share projects in development with a small group of invited professionals in order to receive conceptual and strategic feedback and to connect with prospective co-producers. The sessions are conceived as an adaptation from cinema industry models in response to the specific demands of the contemporary art context.
Projects: Yar bana bir eğlence: Seven Notes on Parrhesia by Eleni Kamma (BE/GR) (producer: Jubilee, BE); In Some Way or Another One can Protect Oneself From Spirits by Portraying Them by Joachim Koester (DK) (producer: Auguste Orts, BE); The Enderby Project by Stephen Sutcliffe & Graham Eatough (GB) (producer: LUX, GB); By Marching we say NO by Isaías Griñolo (ES) (producer: Centro de Arte Dos de Mayo, ES).
Guest professionals : Bryony Bond (Whitworth Gallery, GB), Fatima Hellberg (Künstlerhaus Stuttgart, DE), Sarah McCrory (Glasgow International, GB), Rob Tuffnel (Rob Tuffnell, GB), Karen Verschooren (STUK Arts Centre, BE), Gina Buenfeld (Camden Arts Centre, GB), Frédéric de Goldschmidt (independent film producer and art collector), Teresa Hoefert de Turégano (Medienboard Berlin-Brandenburg, DE), Brigitte Kölle (Hamburger Kunsthalle, DE), Jan Mot (Jan Mot, BE), Francesco Stocchi (Museum Boijmans Van Beuningen, NL), Marina Coehlo (KUNSTHALLE São Paulo, BR), Lola Hinojosa Martínez (Museo Nacional Centro de Arte Reina Sofía, ES), Robert Leckie (Gasworks, GB), Olivier Marboeuf (Espace Khiasma and Spectre Production, FR), Anna Ptack (A-I-R Laboratory, Centre for Contemporary Art Ujazdowski Castle, PO), Binna Choi (Casco – Office for Art, Design and Theory, NL), Iris Dressler (Württembergischer Kunstverein in Stuttgart, DE), Nuria Enguita (independent curator and editor, ES), Dirk Snauwaert (WIELS, BE), Ann Carolin Renninger (joon film, DE), Axel Wieder (Index – the Swedish Contemporary Art Foundation, SE).
Initiated by Auguste Orts (BE) in collaboration with LUX (GB) and Art Brussels (BE). With the support of the Flanders Audiovisual Fund, Flemish Community Commission, Argos Center for Art & Media, RITS School of Arts, Creative Europe MEDIA Desk Flanders and Kunstenpunt | Flanders Arts Institute.