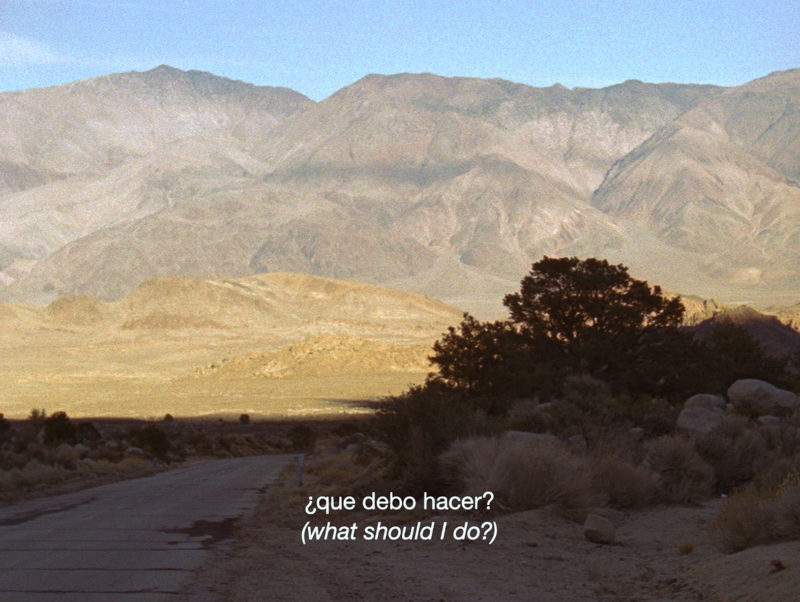 Landscape Plus © Laida Lertxundi
Landscape Plus by Laida Lertxundi
Landscape Plus is an 11-part series of 16mm films and installations, each 2.5 or 11 minutes in duration (the length of a 100 and 400ft film reel respectively). Each part deals with a particular geography and subject of study. Like much of Lertxundi's previous works, many of the films feature the city of Los Angeles and the surrounding Southern Californian landscapes while a few are set in other locations, such as Mexico City, Madrid and the Basque Country.
Each section of Landscape Plus is conceived as a structural exercise, lived experience or memoir, which together form an embodied series of experiments that link a formalist film practice to intricate literary forms from Spain and Latin America. In particular, they refer to Raul Ruiz's ideas for a narrative minefield, by which patterns of digression and association generate structures that expand our conception of the space of fiction. The affect of presence and Agamben's notion of 'being in the medium of human beings' are investigated through an approach that involves working with non-actors and is inspired by an ethnographic sensibility. These are investigations of regionalism that take on added significance when we think of making descriptions of Los Angeles through film techniques that dismantle narrative film language.
Lertxundi's films are typically made with a mix of friends and people she comes to know through inhabiting and spending time with a given community – her working method often involves collaborating and sharing authorship in a way that is open-ended and intuitive. Other voices also permeate her films through references to art history, philosophy, literature and other filmmakers'/friends' images and words.
The Landscape Plus series can be shown comprehensively and can also be configured for gallery exhibitions, where a selection of films could be presented within specifically conceived, intimate viewing environments.
LAIDA LERTXUNDI is an artist and filmmaker living and working in Los Angeles. Solo exhibitions of her work have been held at DA2, Salamanca (2015); Vdrome (2014); and Marta Cervera Contemporary, Madrid (2013). Her work has been featured in significant international survey exhibitions, including Made in L.A., Hammer Museum, Los Angeles (2015); Bienal de La Habana, Cuba (2014); Al's Grand Hotel, Frieze Projects, New York (2014); 12th Biennale de Lyon (2013); Lofoten International Art Festival (LIAF), Norway (2013); and the Whitney Biennial, New York (2012). Her films have also been presented at major institutions and festivals, including the International Film Festival Rotterdam (2016, 2014, 2013 and 2011); Whitechapel Gallery, London (2015); National Gallery of Art, Washington, D.C. (2015); Museum de Arte Moderno, Medellín, Columbia (2015); Kunstverein Hamburg (2014); MoMA PS1, New York (2013); and Tate Modern, London (2011). She teaches film and video in the Fine Art department at the ArtCenter College of Design, Los Angeles. She is represented by Marta Cervera Contemporary, Madrid and her work is distributed by LUX.

Production: LUX
Stage of development: in development