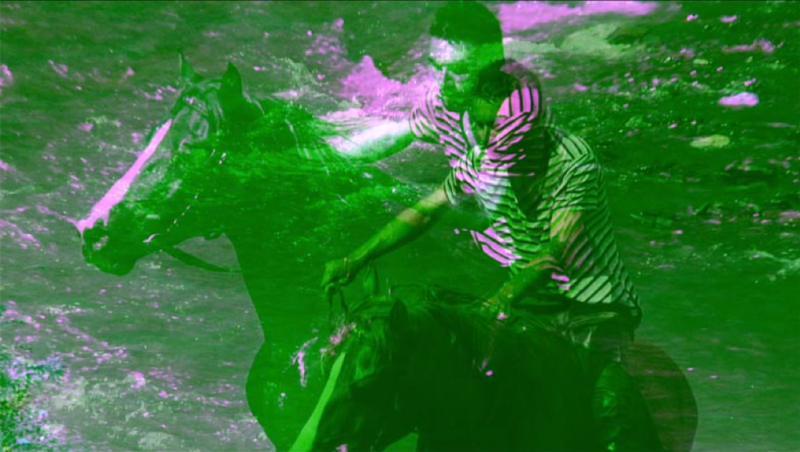 Xitana © Sophio Medoidze
Let us flow! by Sophio Medoidze
An encounter with a people and their gods under a shifting sky of gender and identity, Let us flow! journeys to the high mountain villages of Tusheti in Georgia to find that the old ways are at odds with the demands of global capitalism, and that the meaning of mountains and masculinity alike is in flux as a young population leaves for the cities.
Tusheti counts among the highest inhabited villages in Europe, accessed by one of the most dangerous roads in the world. Suspended between past and future, here life is governed as much by the symbolic as the literal, the prevailing sense of the sacred mitigating the difficulties of survival amid extreme weather conditions and dire poverty. The region is marked by recent increase in tourism, followed by a rapid digitisation of labour as the Georgian government introduced a free wifi access throughout the region.
Gender and identity are at the centre of this land of contradictions, which resists simple binaries and complicates Western concepts around society and the individual. While the region's pre-Christian shrines are still only accessible to men, suggesting an inflexible patriarchy, Tush women - as well-versed in horse riding as in singing and dancing - fully participate in impromptu local elections of village elders, who govern their laws.
The journey to Tusheti becomes an inversion of Medoidze's own journey to the UK sixteen years ago, and the parallels between her and the Tush become more apparent as the film progresses, as language itself becomes implicated too. Medoidze's predicament of living between two countries and two tongues is shared by the Tush, who migrate to low-lying plains every winter and have to grapple with a Georgian which is markedly different to their own dialect.
What is it like to live in a community whose population is gradually draining to the city? Is it possible to reconcile the homogenising impulse of global capital with the hyper-local of an ancient, isolated community? And what does it mean to
be a man when the highest earners across the country (and in the mountains) are women?
Let us flow! will be delivered as both a long-form film for cinema screening across the UK, and as installation, with the film being accompanied by sculptural elements. We envisage that it could take both forms simultaneously, with each informing and supporting the other.
SOPHIO MEDOIDZE was born in USSR, brought up in the Republic of Georgia and lives in London. Medoidze works primarily with film, photography, writing and sculpture. Her work is marked by precarity and explores the poetic potential of uncertainty.
In her recent works Medoidze is interested in subverting traditional ethnographic forms through relatedness and humour. The desire for a community (both actual and imaginary) drives her mythopoetic narratives forward, as she probes and re-states the meaning of the word itself.
Medoidze's work has been shown amongst others at Fondation Vincent van Gogh Arles (upcoming), Serpentine Cinema (solo presentation), Close Up Film Centre, Kunstmuseum Luzern, Whitechapel Gallery, Arnolfini and Tbilisi Art Fair. She recently won Feature Expanded Development and SUB TI awards; Medoidze is nominated for 2019 Jarman award.
Production: Tyneside Cinema
Stage of development: in development