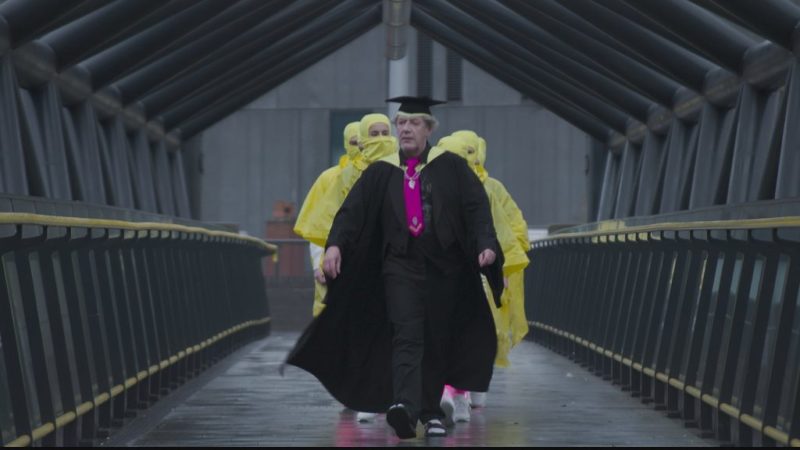 No End to Enderby © Stephen Sutcliffe & Graham Eatough
No End to Enderby by Stephen Sutcliffe & Graham Eatough


This new collaboration between artist Stephen Sutcliffe and director Graham Eatough is a film work in two parts inspired by Anthony Burgess' series of Enderby novels. Exploring the cultural figure of the artist and ideas of authenticity and posterity through theatrical performances and irreverent humour, the two films will adapt the very first and last chapters of the four novel series.
The Enderby Project (working title) will draw together Stephen Sutcliffe's interests in British literary and popular culture of the 1960's and 70's and his preoccupation with the self-doubt of the artist, with Graham Eatough's ongoing exploration of theatricality in the creation of meaning in contemporary culture. Their collaboration will develop both artists' interdisciplinary experiences in visual art, theatre and film. The two films will reference cultural forms drawn from a similar period of key interest to both artists such as the BBC's Play for Today, the Royal Shakespeare Company Masterclass series, the BBC's Complete Shakespeare series, and the rudimentary sci-fi aesthetics of Hitchhiker's Guide to the Galaxy and Blake's 7.

(working title: The Enderby Project)


STEPHEN SUTCLIFFE (b.1968, Harrogate) lives and works in Glasgow. Recent solo exhibitions include Tramway, Glasgow (2013) Rob Tufnell, London (2012), Stills, Edinburgh (2011), Whitechapel Auditorium (2010), Cubitt, London (2009), Galerie Micky Schubert, Berlin (2008) and Art Now, Light Box, Tate Britain (2005). Group exhibitions include: Freize Projects, 'Project 35', Independent Curators International, touring to various venues in the United States (2010), 'The Associates', Dundee Contemporary Arts (2009) and 'Nought to Sixty' and 'Talk Show' at the ICA, London (2008 and 2009 respectively). In 2009 he was shortlisted for Derek Jarman Award (which he has been shortlisted for again in 2014) and in 2012 he won the Margaret Tait Award. In October 2013 his video 'Outwork' was part of Experimenta (the artists moving image screening program) at the London Film Festival. He has just completed a residency at BBC Scotland.


GRAHAM EATOUGH is a Glasgow based theatre director who also works in visual art and film. Between 1992 and 2009 Graham was Artistic Director of Suspect Culture theatre company for whom he directed and occasionally performed in, eighteen productions presented in venues and festivals around the world. Graham has also directed work for 7:84, Tron Theatre Glasgow and National Theatre of Scotland as well as performing in theatre, film and television. Graham's recent work has included collaborations with artist Graham Fagen, The Making of Us (Glasgow International, National Theatre of Scotland, Edinburgh International Film Festival) and In Camera (La Friche, Marseille). Currently he is one of five collaborators from Europe and Australia on the Nomanslanding project, a performance installation for Sydney Harbour, the river Clyde and the Ruhr in 2015. In the theatre Graham's production of HeLa by Adura Onashile won Best Scottish Show at the Edinburgh Festival 2013 before its world tour in 2014, and he is about to direct a new production of Alasdair Gray's novel Lanark at the Edinburgh International Festival.