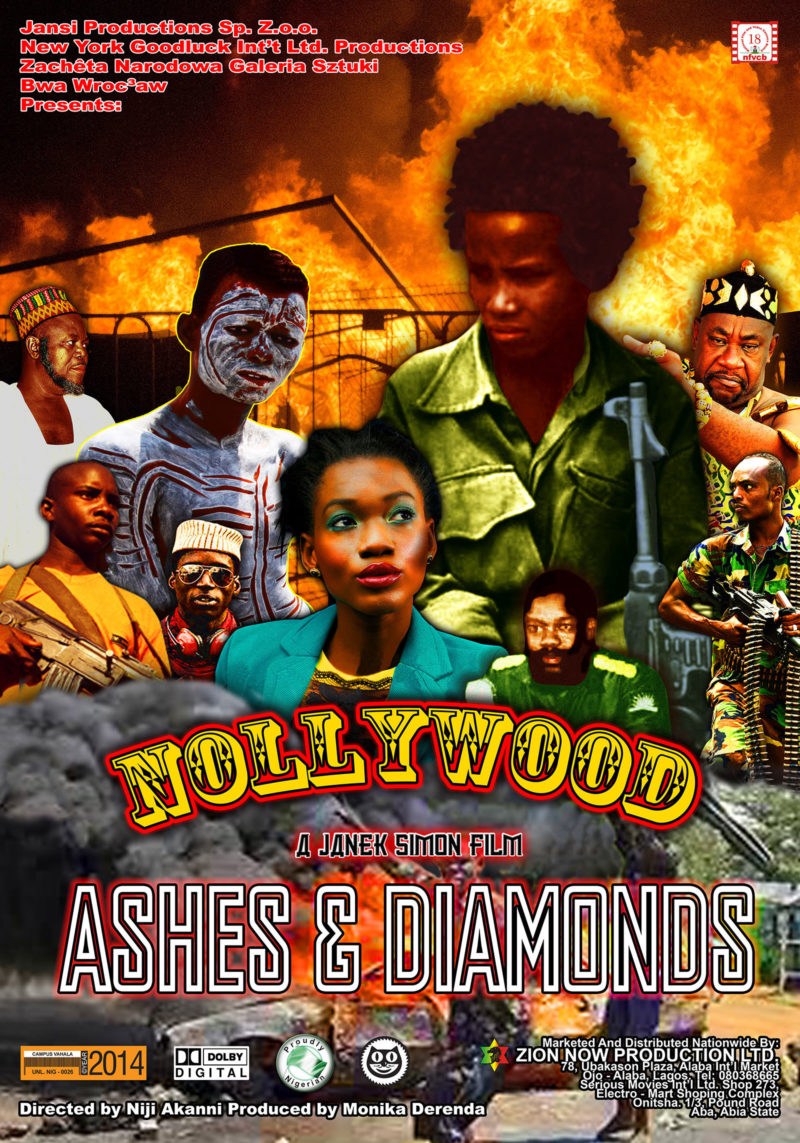 Nollywood Ashes and Diamonds © Janek Simon
Nollywood Ashes and Diamonds by Janek Simon
The main aim of the project is to produce a remake of a seminal Polish film – Ashes and Diamonds by Andrzej Wajda – in Nollywood – the Nigerian film industry.
The film, which premiered in 1958, tackles probably the most important political issue of post-war Eastern Europe – the evaluation of communism. The film depicts the WWII Polish Underground Resistance Army in a way that was very difficult to accept for the communist regime, which made the release of the film an important political event at the time. The pro- duction itself involved lengthy subterfuge and negotiations with censorship.
Nollywood emerged in Nigeria in the early 1990s from almost nothing. It is now the sec- ond biggest film industry in the world, having practically wiped out American films in Africa. Niji Akanni, an award-winning Nigerian director who has been invited to work on the re- make, is planning to translate the Polish story into the realities of the Biafra War, a violent and under-represented civil war that tore Nigeria apart in the late 1960s. This topic is still highly political and is subject to intense control and censorship, so the production – as it was the case with Wajda's film – will be screened for the censors first.
The remake will be released in popular cinematic distribution and has a chance to become a significant political event in Nigeria. The "making-of" documentary – directed by Janek Simon, the artist who inspired the re-make – will be used as the main channel of presenting the project to global audiences. How will the story, emblematic for one semi-peripheral geographic reality, be translated into another social and historical context?
JANEK SIMON (b. 1977) is a conceptual artist, curator and a wannabe documentary filmmaker based in Warsaw. He draws inspiration from curiosity and the anarchic rejection of all forms of power. On a more concrete level he is inspired by travel, history of science and political ideas, as well as the practice and ethics of the DIY culture. In recent years he has developed a body of work in which he investigates the notions of distance and difference between places, he has worked on projects that try to remap the semi-peripheral position of Eastern Europe through geographical experiments. His works were shown, among others, at Manifesta 7, Liverpool Biennale, Prague Biennale. His numerous solo shows took place in major public art institutions in Poland and elsewhere (Arnolfini Bristol, Casino Luxembourg, Zachęta National Gallery of Art in Warsaw and others).

NIJI AKANNI (b.1962) is a Nigerian film, television and theater director. He started his career as a scriptwriter, working among others on such notable Nollywood productions as "Dangerous Twins" directed by Tade Ogidan or "Narrow Path" by Tunde Kelani. His feature debut from 2011, Aramo- tu helped to estabish new standards for cinematic productions in Nigeria and was a notable con- tribution to the emergence of Nollywood 2.0. Heroes and Zeroes – his second feature from 2012 was a major artistic acomplishment and won three African Movie Academy Awards.