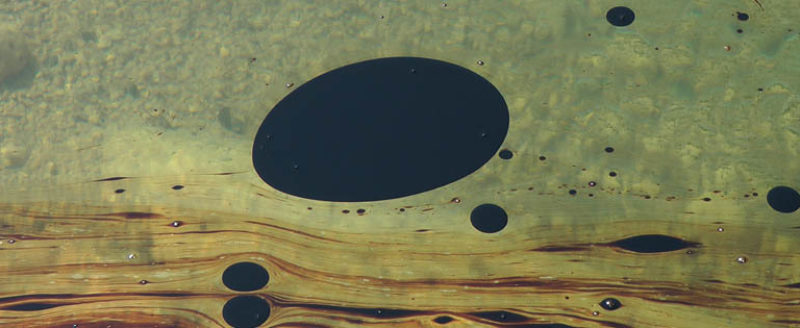 Seep © Nasrin Tabatabai & Babak Afrassiabi
Seep by Nasrin Tabatabai and Babak Afrassiabi
FILM AND/AS ARCHIVE: Nasrin Tabatabai & Babak Afrassiabi in conversation with Anna Manubens
Case Study: Seep by Nasrin Tabatabai & Babak Afrassiabi (2013)
In 2013, Nasrin Tabatabai & Babak Afrassiabi produced two videos for a show entitled Seep (presented at MACBA in Barcelona and Chisenhale Gallery in London), which included various objects and documents juxtaposing two 20th century archives, in the UK and Iran. The two films were part of a delicate conglomerate of elements making it very difficult for them to exist and be shown independently from the other materials. This intimate connection raises important questions regarding the modes in which the films can exist after or beyond their original exhibitions. In parallel, it allows for a reflection on the relationship between film and archive in practices in which filmmaking comes hand in hand with research and archive (counter)production.
Seep (2013) by Nasrin Tabatabai & Babak Afrassiabi

Pages is a bilingual (English and Farsi) magazine on art and culture. This issue of Pages assumes seep as a post archival mode. The biology or politics of seeping is like that of raw petroleum oozing at natural oil seeps. Unlike refined oil which has sponsored modernisation and its aligned archives, crude oil pours beyond historical purpose and defies structural elevations. It instead disfigures the ground through which it dubiously spreads.

Nasrin Tabatabai and Babak Afrassiabi have collaborated as Pages since 2004, producing joint projects and publishing a bilingual magazine – also called Pages – in Farsi and English of which 9 issues are published so far. Their projects and the magazine's editorial approach are closely linked, both described by the artists as 'attempts in articulating the indecisive space between art and its historical condition'.

Tabatabai and Afrassiabi live in Rotterdam and work in the Netherlands and Iran. Their work presented in solo and group exhibitions are among others: Lost in the Archive, Centre for Contemporary Art, Riga, Latvia, (2015-2016), 5th Guangzhou Triennale/ First Asia biennial, Guangzhou, China, (2015-2016). The Past, The Present, The Possible, 12 Sharjah Biennial, Sharjah, UAE, (2015). Moderation, Witte de With Institute Rotterdam, (2014); Muslim Mulliqi Prize 2014 / 10th edition, National Gallery of Kosovo, Pristina, Kosovo, (2014). Seep, Chisenhale, London, UK, (2013). Seep, MACBA, Barcelona (2012), Two Archives, Badischer Kunstverein, Karlsruhe (2011), Roundtable, 9th Gwangju Biennale (2012); Untitled, 12th Istanbul Biennial (2011); The Isle, MAK Center/ Schindler House, Los Angeles (2009).They have participated in Magazines, Documenta 12, Kassel (2007) and publishing project at Como viver junto, 27th São Paulo Biennial (2006).