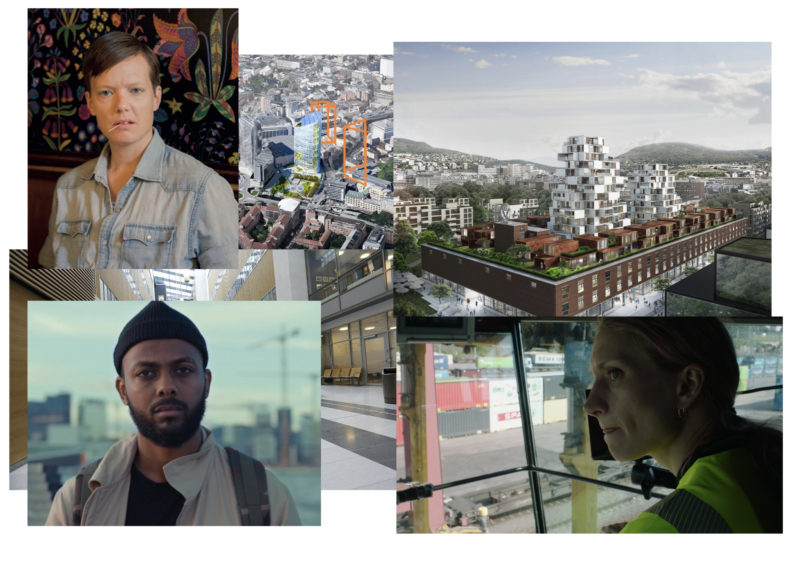 © Knut Åsdam
Speech by Knut Åsdam
Speech (Oslo, chapter 2) is part of an overarching film work consisting of 5 independent chapters shot every year over the course of five years. The chapters (Work, Speech, Living, Sexuality, Struggle) are edited and shown as they are completed in public spaces, and will be assembled into a feature film after five years, aimed at distribution in cinemas, festivals and art institutions both nationally and internationally. The project mixes documentary and fiction material and its first chapter, Work, was already shot and presented as clips in public spaces in Tøyen, Løren and Grønland in Oslo in 2019. Speech, will be completed and presented in the fall of 2020/winter of 2021.
THE FILM

Different abilities and means for expressing meaning and desire are central to the film and are a kind of 'refrain' through the narrative. From an overworked, "ornamental" language that loses meaning and becomes depressive or apathetic to communication through dysfunctional syntax and verbal language but which still is able to carry meaning and affect. I am interested in an interaction between verbal expression, bodily and contextual language-formation. That is, not only how verbal and bodily language form meaning but also how a person puts different words and bodily gestures into a context that either fills-in the gaps and gives coherence, or conversely, exposes the language as faulty or even nonsensical. So the film will be structured in an interplay between speech, body and context. But this is also subject matter, and not just structure.
In Speech, deviation is thematically and structurally embedded. Thematically, it is about coping with unusual language in a language-obsessed and skills-oriented society. Unusual, in this case, means to not be able to speak the dominant language of their society with authority. In this film, it relates to speech difficulties often associated with learning difficulties, that of depressed speech, or of people desperately seeking affirmation through any sort of language. The effects might sometimes be subtle and not apparent in all situations, but there is often something "wrong" with the syntax and also a very creative use of signifiers to circumvent the difficulties in creating a straight-forward sentence. This is a position that is necessarily creative and affirmative in its way of dealing with the world. Like the different topics of "broken" and/or infused language, this creates language with great local precision as it is understood by and tailored to the people close to one, but that might struggle with access to social or economic positions in society—or simply to be understood.
KNUT ÅSDAM is a filmmaker, artist, writer and professor of moving image. Åsdam studied at Whitney Museum Independent Study Program (NYC 94-95), Jan van Eyck Akademie (Maastricht, 92-94), Goldsmiths College (London, 89-92), and more.
In cinema, video, audio and installation, the main interest of Åsdam's work is contemporary society, its psychological and material effects and the toll of every day life upon the body and subjectivity. The idiosyncrasy of Åsdam's films is created by bringing an attention to space, history and place into film, combining this with an acute sense of subjectivity and language, and his mix of documentary and fictional narrative elements driving the plot.
His work has been shown widely at e.g. International Film Festival Rotterdam; MOMA; Tate Modern; Bergen Kunsthall; Tate Britain; Boijmans van Beuningen Museum; Venice Biennial; Kunsthalle Bern; Istanbul Biennial; FRAC Bourgogne; MACRO, Rome; Museum of Contemporary Art, Oslo; Manifesta7; Moderna Museet; and Musee d'Art Moderne de la Ville de Paris, and several cinemas internationally.
Knut Åsdam's articles on cinema and the politics of space and gender have been published widely.
Production: Nordland Art and Film School (NKFS) & osloBIENNALEN (1st edition, 2019-2024)