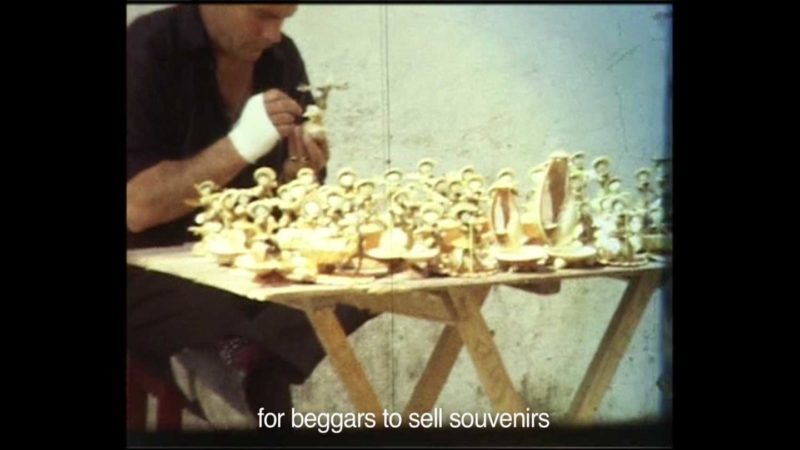 The New Parthenon © Penny Siopis
The New Parthenon by Penny Siopis
BEYOND ORIGINAL CIRCUMSTANCES: Penny Siopis in conversation with Corinne Diserens
Case Study: The New Parthenon by Penny Siopis (in preparation)
On the occasion of her exhibition at the erg gallery, South African artist Penny Siopis will discuss her filmic practice weaving together thoughts on her understanding of found-footage as a readymade and the tension between the alien and the intimate that her use of images of others generates. The conversation will explore the artist's method of using randomly found 8mm home-movie footage, that she mixes with sound and text, to shape stories about individuals caught up in larger political and social upheavals. The footage bears no empirical relationship to the original context of the stories. And, whilst the stories are historically specific, they have an elemental quality that speaks beyond their original circumstances.
The artist will speak about the film she is currently working on. Entitled The New Parthenon, it speaks of Greece's fraught relationship with Europe, through the imagined meditations of a Greek man who is also her father.
The New Parthenon, 2016, Single-channel digital video, sound, Duration approximately 15 min 26 sec.
PENNY SIOPSIS lives and works in Cape Town and is honorary professor at Michaelis School of Fine Art, University of Cape Town. She has exhibited widely locally and internationally and has taken part in the biennales of Venice, Taipei, Sydney, Johannesburg, Guangzhou, Havana and Kwangju. A major survey of her work, Time and Again: A retrospective exhibition by Penny Siopis, was presented at the South African National Gallery, and Wits Art Museum, in 2014 and 2015. Recent solo exhibitions include Restless Republic, Stevenson, Cape Town, Incarnations, ICA Indian Ocean, Mauritius and Penny Siopis: Films, Erg gallery, Brussels, and work was included in the recent group exhibition South Africa: The Art of a Nation, the British Museum, London.
CORINNE DISERENS is director of the art academy erg, École de Recherche Graphique, she was also jury chairwoman of Akademie Schloss Solitude from 2011 to 2015 (Stuttgart). Diserens studied art history at Université Panthéon Sorbonne (Paris), and was Fellow at the Whitney Museum of American Art, Independent Study Program (New York). From 1989 to 1993, Diserens was curator at IVAM – Instituto Valenciano de Arte Moderno (Valencia), and between 1996 and 2008 she directed the Musées de Marseille, Musée des Beaux-arts de Nantes, Museion Bolzano, and organized international co-productions for MACBA – Museu d'Art Contemporani de Barcelona. She has curated numerous artists' retrospectives and thematic exhibitions, and published monographs and catalogues.