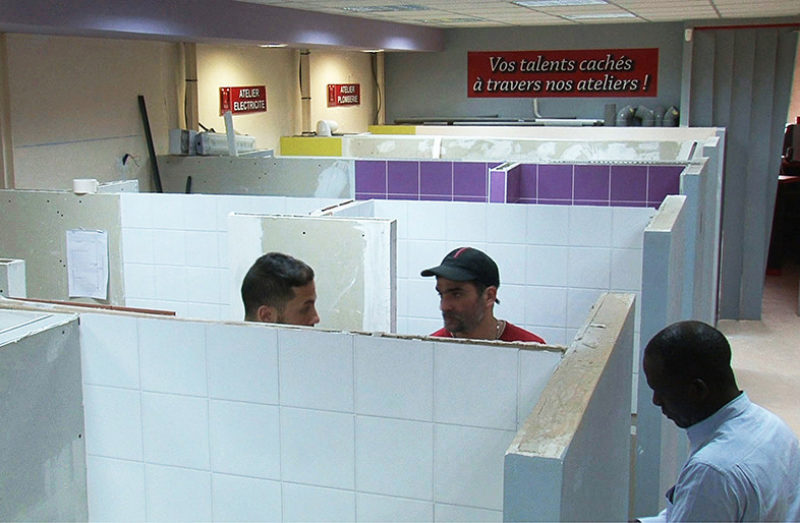 Labour Power Plant © Romana Schmalisch & Robert Schlicht
Labour Power Plant by Romana Schmalisch & Robert Schlicht
Labour Power Plant documents the experiences of five people enrolled in a programme at an education and training centre in France. The objective of the training they will be following over the course of several months is to physically and psychologically prepare them for the demands of the labour market. Their social competences, their emotional and cognitive qualities and deficiencies are established in an initial series of exercises and interviews that define their profiles and propose individual training plans. The programme alternates between tests of physical endurance, coordination and logic, but also creative activities that induce the participants to reveal their frustrations, desires and a large part of their privacy, as well as enhance their self-confidence and instil a sense of meaningfulness. Placed in concrete working environments, the candidates will also alternately assume different roles of, e.g., supervisor, waiter, guest, sub-worker, etc., to learn and have their aptitudes tested. While in some scenes the work efforts of the groups turn into what appears like a collective, choreographed movement, in other scenes, the participants have to cope with irritations occurring during the procedures. Some physical training units involve the most basic, abstract activities that have no other aim than advancing certain abilities and may therefore appear grotesque for anyone not aware of this aim, including the participants themselves.
As the months pass, it becomes increasingly clear that the goal of the programme is not to educate the participants for a specific vocation, but rather to prepare, discipline, and appease them so that they are able, willing, and even eager to serve as a workforce, that is, to turn them into abstract human capital. It turns out that we are in fact visiting a "labour power plant", housed in a large building located outside of urban contexts, which provides society with the human capital on which it depends—a facility consuming human beings with their own will, interests and desires, and transforming them into the final product of labourers.
ROMANA SCHMALISCH (1974, Berlin, Germany) studied Fine Arts at the University of the Arts in Berlin. She was a resident artist in several stipend programmes, among others at the Fine Art Department of Jan-Van-Eyck Academy, Maastricht, the Berlin Senate's stipend program in London and currently at Les Laboratoires d'Aubervilliers (2013-2014), where she works on a long-term research project "The Choreography of Labour".

ROBERT SCHLICHT (1975, Berlin, Germany) studied philosophy at Humboldt University Berlin. His recent text "Film as Show Trial" was published in Der Standpunkt der Aufnahme – Point of View: Perspectives of political film and video work (edited by Tobias Hering in collaboration with Arsenal Berlin – Institute for Film and Video Art). Since 2004 Romana Schmalisch and Robert Schlicht have collaborated on several projects at the intersection of theory and film, investigating cinematic representations of history and society. Their films have been shown in exhibitions and film festivals in Berlin, Houston, Paris, Moscow, Yerevan, Madrid, Brest, Essen, Duisburg and Vienna, among others.