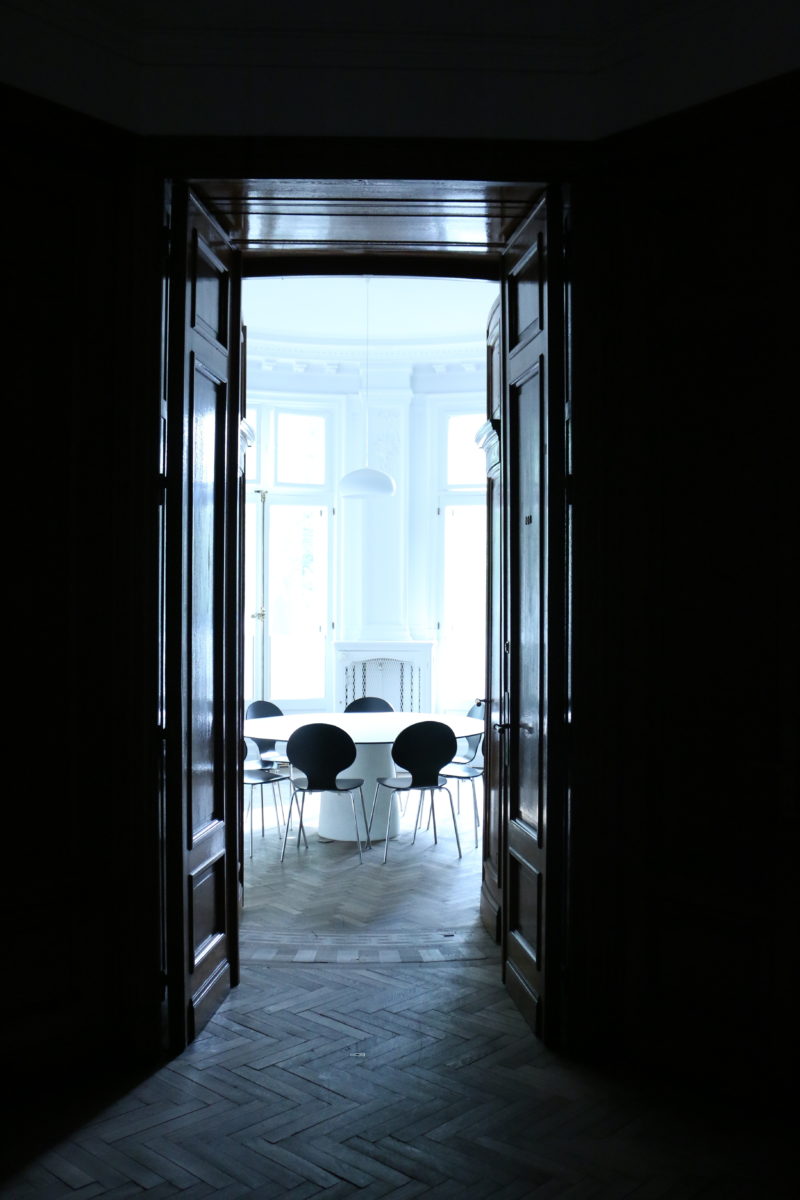 Work Sessions—Brussels, 2014
25 April 2014 - Flanders Audiovisual Fund | vlaams audiovisueel fonds (VAF), Brussels
The Work Sessions provide a platform for artists to share projects in development with a small group of invited professionals in order to receive conceptual and strategic feedback and to connect with prospective co-producers. The sessions are conceived as an adaptation from cinema industry models in response to the specific demands of the contemporary art context.

Projects: Crippled Symmetries by Beatrice Gibson (GB) (producer: LUX, GB); Lili by An van. Dienderen (BE) (producer: Contour, BE); Fierté Nationale by Sven Augustijnen (BE) (producer: Auguste Orts, BE); Labour Power Plant by Romana Schmalisch & Robert Schlicht (DE) (producers: Les Laboratoires d'Aubervillers and Spectre Productions, FR).
Guest professionals: Bernard Blistène (Centre Pompidou, FR), Will Bradley (Kunsthall Oslo, NO), Emilie Bujès (independent curator, FR/CH), Pascale Cassagnau (CNAP, FR), Isabel Carlos (Gulbenkian Foundation, PT), Fréderic De Goldschmidt (private collector, BE), Kate Gray (Collective Gallery, GB), Zoe Gray (independent curator, GB), Sophie Goltz (NBK, DE), Krist Gruijthuijsen (Grazer Kunstverein, AT/NL), Helena Kritis (Beursschouwburg, BE), Jean-Conrad & Isabelle Lemaître (private collectors, FR), Andrea Lissoni (Tate Modern, GB), Frank Maes (Emergent, BE), Francesco Manacorda (Tate Liverpool, GB), Noor Mertens (Museum Boijmans Van Beuningen, NL), Mihnea Mircan (Extra City, BE), Jan Mot (Jan Mot, BE), Steven Op de Beeck (Contour, BE), Maria Palacios Cruz (independent writer and curator, GB), Rolf Quaghebeur (Argos, BE), Christophe Slagmuylder (KFDA, BE), Nicola Setari (Contour, BE/IT), Mike Sperlinger (independent curator, writer and producer, GB/NO), Philippe Van Cauteren (S.M.A.K, BE), Valerie Verhack (Museum M, BE).
Initiated by Auguste Orts (BE) in collaboration with LUX (GB), Contour Mechelen vzw (BE) and Art Brussels (BE). With the support of the Flanders Audiovisual Fund, Argos Centre for Art and Media, Creative Europe MEDIA Desk Flanders and Kunstenpunt | Flanders Arts Institute & Media.