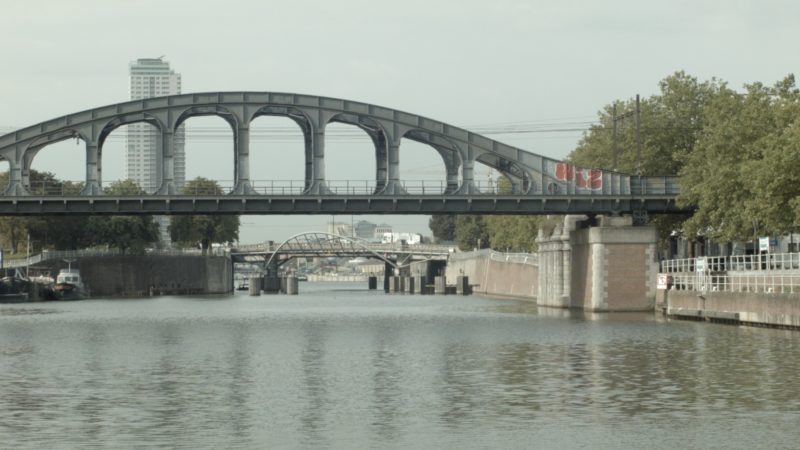 On a Clear Day film still © Robbrecht Desmet
On a Clear Day by Robbrecht Desmet


Preliminary note (April 2016)
The statement below was written before the attacks in Brussels on 22nd of March 2016. Although the approach and the words used to describe the film are still accurate, the images, most of which were shot prior to March 22nd, seem no longer suited. As the title indicates, they might have come too soon (Trop tôt). I have resolved to leave the description below as it was, while I take the time to consider how to let the project be affected by such a sudden alteration of the city.
Trop tôt is an audiovisual essay on the fragmented metropolitan landscape of Brussels. The film is an experimental investigation into the landscape and architecture of the city of Brussels through the instruments of cinema.
The voice-over muses on a possible future of the city, on the history of a specific place or potential developments in urban planning. This narrative is intertwined with fragments from The Prelude, a Romantic 19th century poem by British poet William Wordsworth. The Prelude documents a hike through Europe which functions as a metaphor for the poet's spiritual journey. At the same time, Wordsworth's poem is a premonitory chronicle of the rising of the modern world and of the permanent transformation of landscape and the city by successive revolutions. The space that the poem refers to –its expansive Europe of the Alps, its cities of London and Paris– is replaced in the film by the landscape of its 21st century capital: Brussels.
Trop tôt resolutely scrutinises the landscape, assuming that our surroundings, ranging from the picturesque to the commonplace, are an expression of the dominant political and economic forces.
Through this heterogenous collection (of images) Trop tôt tries to bridge imagination and reality. It tries to discover what image Europe and her capital evoke in the 21st century.
The soundtrack of the film is composed by Throwing Shade, pseudonym of Nabihah Iqbal, the London-based DJ, producer and composer. Iqbal is also an etnomusicologist and, inspired by the images, she will deliver a soundtrack that combines her own compositions with existing music.
(working title: Trop Tôt)

ROBBRECHT DESMET (°1985) is filmmaker. He studied Cinema and Fine Arts at the Sint Lukas College of Art & Design in Brussels. His work was presented in screenings and exhibitions as Beyond The Picturesque (S.M.A.K. & Artcinema OFFoff), Documented Now! (de Brakke Grond, Amsterdam), Splav Meduze (Centre for Contemporary Art Celje) and filmfestivals like International Filmfestival Hamburg, Festival for Experimental Film in New York, ISELP Festival du Film sur l'Art Brussels and Courtisane Festival, International Film Festival Rotterdam and BFI London Film Festival. He has participated in residency programs such as Capacete Int. in Rio de Janeiro and Sao Paolo (Br), SIC SoundImageCulture workspace and FLACC workspace for visual artists (Genk, Belgium). He is a lecturer Film Studies at LUCA School of Arts in Brussels.