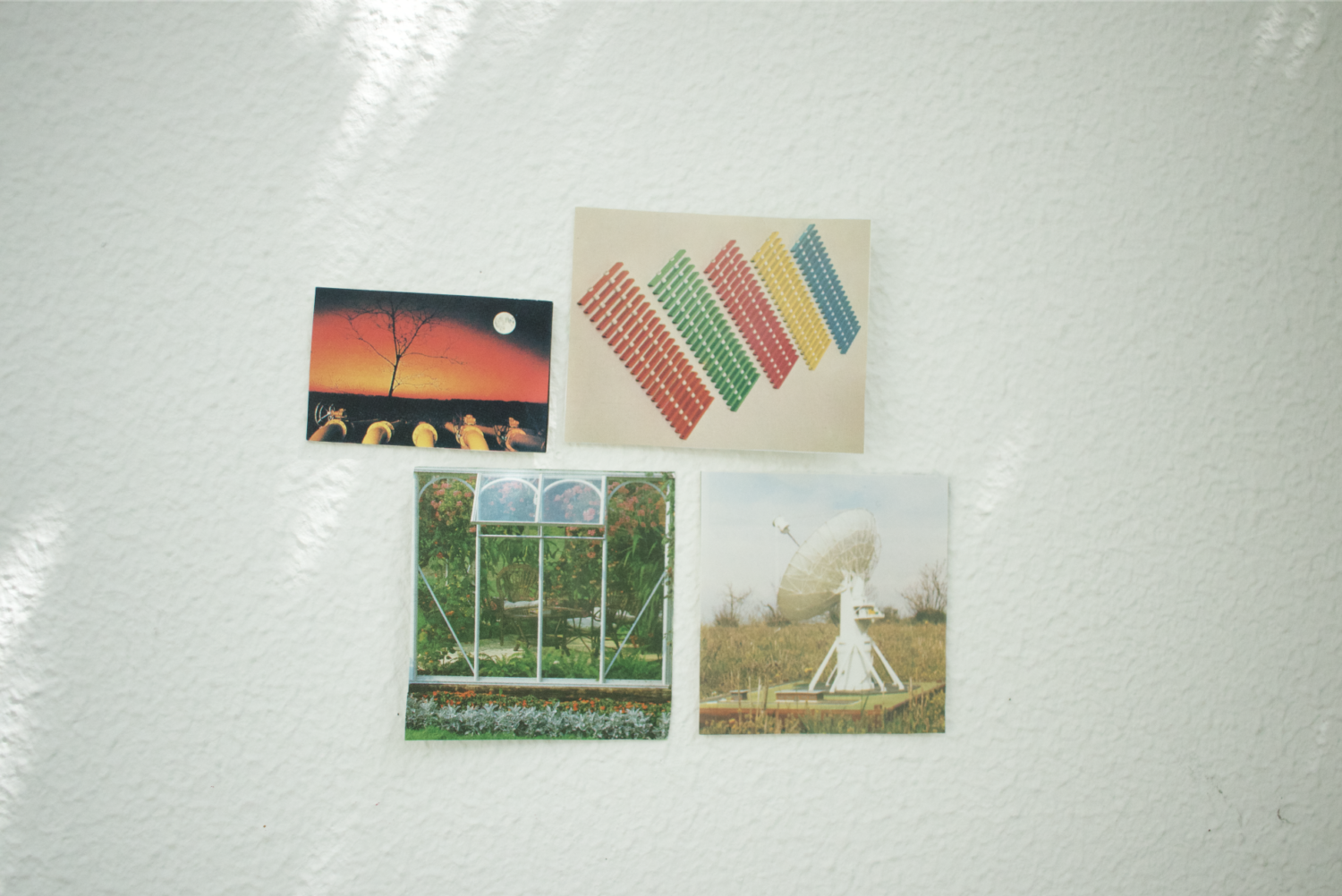 Building Blocks: A Conversation Between Auguste Orts and Helena Kritis
On a mild autumn day in October 2020, the team behind On & For at Auguste Orts in Brussels meet up for a conversation led by curator and film programmer Helena Kritis. Around the table sit the 4 founding artists-Herman Asselberghs, Sven Augustijnen, Manon de Boer and Anouk De Clercq-the director, Marie Logie, the financial director, Pepa De Maesschalck, and the coordinator of On & For, Rebecca Jane Arthur. After years of working together, a relaxed sense of familiarity fills the room. Yet Kritis tries to provoke new thought with her line of questioning. She asks them to reflect on their practice, as a platform, to provide insights into the workings of On & For, and probes for their ambitions for the future of On & For as the project (2018-2021) begins to draw to a close, once more, again 'for now'. The conversation that takes place is held in Dutch, recorded, and later transcribed and translated into English. The material is edited by Arthur as a simulation of the sprawling conversation had during that afternoon together at Auguste Orts. Below the voices of Auguste Orts appear alongside one another, unnamed, without hierarchies, as an accumulation of the voices and thoughts behind the happenings of the platform.
The question I want to start with is, after 15 years, does it-Auguste Orts-still work and why?
—One of the surprises has been that it has lasted so long with four artists, each with their own trajectory, and each with their own ego. No mutual manifesto or mission statement was ever written, and yet we all had a similar idea of ​​what we wanted.
—I think that it has to do with the fact that all four of us are quite different from one another, thus we all feed into the organisation in a different way.
—As each artist works at a different rhythm, a different pace, there's always someone who is producing a little less, themselves, at any given time, and can assist a little more with other parts of Auguste Orts, e.g., dossier writing, events, etc.
—Our own practices are also quite different from one another, but Auguste Orts has always had room—rather, has actively created the space—to look at what is needed for each project. As a result, we have also been able to continue to develop and make different kinds of films—short and feature, analogue and HD, documentary and experimental—and have collaborations with other artists, other arts producers, other platforms. This evolution or expansion in Auguste Orts' catalogue has grown in the last decade together with our practices. We've never 'stayed still', so to speak.
—Or maybe it's because we don't have so much 'to do' with each other—that we don't collaborate on artistic projects? I'm not meaning to be negative, but there are often tensions in other collectives or platforms that arise from 'working together'.
—Doesn't it mainly have to do with the fact that we all find it important to be engaged with more than just our own practices; that we all look beyond our own paths? For example, we all think it is important to help build an audiovisual community. We teach. We sit on so many boards of directors. Our commitment to the field, therefore, goes further than just our own work.
—It's also important to add that we never had the ambition to receive a wage from the platform—people are often surprised by that. For most of us, our salaries come from teaching, which slows down the production process and has a major impact on the organisation because projects take longer to realise. But 'taking time' isn't necessarily negative, although it's often read as such. Both financially and in terms of time, there is less 'pressure on the boiler', so to speak. That also gives us a kind of freedom.
—That is an important point: people think that 'artist-run' implies that we are paid for it, the running of things. However, we aren't 'running' the show on a day-to-day basis. We have a director, financial director, even a technician!
In that case, 'artist-run' is an interesting choice of words. With a team running the show, is it fitting to say that Auguste Orts is artist-run?
—'Artist-led' could be another option. But it sounds more top down, while we actually work horizontally. We make the decisions together—with our director, for one.
Auguste Orts invented a kind of model that has been copied and adapted by other organisations, and its lobbying activity has also had a striking influence in the field. Is that now also an essential part of the organisation-the aim to influence policy?
—First off, we didn't 'invent' the model exactly. At least, we didn't create it from scratch.
The model of Auguste Orts—a structurally-funded audiovisual platform—was conceived as an adaptation from other fields, namely podium arts: theatre, dance, performance.
—Perhaps we should define here what model we are discussing? We are referring to the arts platforms that are structurally subsidised by the Flemish Government's Arts Decree, Department Culture, Youth and Media (Dept. CJM), we call it the Kunstendecreet in Dutch. Arts organisations with a legally verified non-profit status can apply to Dept. CJM to receive project funding of 1 or 2 years for their artistic operations. After establishing a place within the field, the Flemish art field that is, an arts organisation can apply for what we call 'structural funding', which now covers a period of 5 years.
—Yes, so in order to access that fund, we did our homework when starting out. We went to speak to structurally subsidised platforms in order to understand how they functioned, how they created a structure that is sustainable, with both subsidies and commercial exploits, and how they legitimised their place in the Flemish arts field in order to become subsidised. Then, we went to work at creating that same space—the space for an artist-run production and distribution platform of artists' moving image—to be structurally funded. In order to create that space, we had to lobby for it.
—I recall our first meeting with members of the administration of Dept. CJM. We had to explain to them what a platform for the production and distribution of artists' moving image could mean; we had to help them envisage it, and its (cultural) worth. Back then, we talked about 'alternative management bureaus.' It was a term that came from the live arts. We used it in order to be able to fit into the box within the existing system, which supported live arts platforms in their production and distribution activities. After a few years, we dropped this term, 'alternative management bureaus', and applied the term 'platform for production and distribution'. We explained to the administration of Dept. CJM what working together could mean, what tasks could be shared, how money could be invested to do more for more people, what the role of artists, the gallery and the platform could be… It was very early in the development of the organisation, but we went there together and drew them into the debate because we felt that communication with the authorities was necessary. And still do today.
—And then the audiovisual field began to grow! We gained colleagues, other artist-run audiovisual platforms, who too gained structural funding. We must point here to María Palacios Cruz's text a commissioned article on our field, the Flemish audiovisual landscape. She describes the local fabric and its history so well; how the audiovisual arts are interconnected, from gallery to festival, via whatever 'bureaus' you can think of!
—And, today, represented by Marie or Pepa, we are part of many independent platforms that create space for thinking together on the development of our field, forums such as oKo, PAM[1]. Further, we are even engaged in reflection groups at the local arts council (Kunstendecreet, Dept. CJM) and film fund (Flanders Audiovisual Fund/Vlaams Audiovisueel Fonds, VAF).
—I think that this has to do with a sense of responsibility that arises from having structural funds. During the Production Models conversation with different producers, Marie expressed that, precisely because of the structural funding Auguste Orts receives, there's an impetus to 'pay back' the trust that has been given into the (audiovisual) community: to share knowledge, to help educate beginners, to be visible, etc. I appreciated that reminder of the stance that one chooses to take; it's a decision to be generous in one's working. Although there aren't any official demands from structurally subsidised organisations, there is a kind of inherent responsibility that's felt. One must decide then how to act.

Did you have funding from the get-go?
—No. Not at all. We started without a penny. However, we did have a long-term residency of 5 years (2007–2012) at the time at the arts centre Beursschouwburg, Brussels, located on Auguste Orts Street, where we found our name. Having that residency, which Beursschouwburg names their 'Associated Artists' programme, provided us with a location—essentially, a free space, a free office, with all of the infrastructure that comes with it and with the overhead costs taken care of. Not to mention a public platform that gave us visibility, a space to host events, and a budget allocated to events of our choosing, with money to invite people to participate and pay screening fees.
—It's important to add that Marie worked without pay for the first year—that is also a part of the story. It was slow and precarious to start off with. Not everyone can do that.
Marie's role as director has just been mentioned. Could Auguste Orts still exist when Marie says, at a certain point, 'it's been a good run'?
—Then someone else would have to take that role; there would have to be a new director. But I fear it would become something completely different.
—I think there was another question hidden in that question: not what if a member quits, an artist or director, but what if the constellation were to change? What if an artist was to join our core group in the future?
Indeed. Are there any conversations about adding artists?
—In the beginning, we made an agreement that an artist could leave and that the project of Auguste Orts would continue to exist. But we have never really been able to imagine the platform with 3 or 5 artists, or never really wanted to. The constellation of 4 artists, and 1 director, 1 financial director, and 1 technician all working part-time has created a balance that has kept us steady for 15 years. It's a dangerous thing to rock that boat…
—But if we ever would decide to expand the core group, it needs to be carefully thought through as part of an overall recalibration of the platform's workings and organisation. We'll continue to have this conversation…
—I'd say the most pressing conversations we have, in this vein, stem from the fear of becoming stale, of becoming stagnant! That said, however, we try to open up our operation by inviting others inside, to work with us on specific projects. On & For being one of them. A project that is defined by collaboration, with other artists, other cultural workers, other arts organisations, other funding bodies, etc. In the first term of On & For, we worked in close collaboration with the independent curator Anna Manubens, who managed the project for us. Now that's Rebecca Jane Arthur, who started working for us as an intern in 2015–16 and has never left her desk for long since! Whilst developing as an artist, she's been around on a project basis assisting Marie and learning from her. Thus, we have the internship programmes that bring young minds into our folds and also the 'Guest Productions',[2] which allows us to connect with a variety of artists, young (in their careers) and established. Then, for each production, we require to work with a team: always varying in size. But, by now, we have created close ties to talented cinematographers, sound engineers, editors, post-production technicians, colour graders, sound mixers, and so on, and on-set or behind-the-scenes production hands.
—As Marie is at the core of these relationships, being in charge of the employment, the funding, the communications, she takes care of these collaborations and ensures that they thrive. They are also her relationships, thus, and not just Auguste Orts'.
—In any case, we'd all prefer to reflect on how we can engage with more people rather than how to cope with losing one person.
But you do invite other artists to produce their films within Auguste Orts. Can you tell me more about the Guest Productions; how does that decision-making process go?
—Auguste Orts is set up to produce, primarily, our own works. However, we always wanted to learn together with other artists about the various shapes of production, so we started to produce and distribute what we call 'Guest Productions'. Thus, apart from building our production catalogue, by helping our peers get their productions off the ground and supporting them throughout their indivi­­dual production journeys, we strengthen relationships with our peers, our networks grow, our experience deepens, our capabilities strengthen.
—I want to add that this grew out of a need. Since starting up, we were often approached to facilitate the productions of our peers. Both as producers or co-producers. Thus, the need for producers operating in the way we do, with such a varied catalogue of film productions—from short to feature length; from high-tech animation to experimental analogue film—was overwhelming. It still is. And we, alone, can't satisfy the demand.
So how does it work?
—We agreed that, when we would take on a Guest Production, each of us would be responsible for the production that we have introduced. This is akin to what some might call a godmother or godfather position. Basically, the aim is to support and facilitate the artist, their production, and to ease or share some of the burden with Marie, who is not only the director of Auguste Orts but also the head of each production.
— We gather the names of the artists, their projects, and the requests we receive and find interesting, and then we discuss together if the particular project is something that we'd be keen to take on. Does it excite us? And then, apart from desire, there are also practical considerations to be had. Mainly, the decision boils down to a question of time: can we afford to add this production to our schedule at this moment? It's more often about feasibility, rather than it is about creating a particular catalogue as such, with any tangible artistic vision.
—Everyone has to agree in the decision for the next Guest Production(s). However, you also need to have some kind of trust in each other. You may not know the filmmaker or project that your fellow artist is bidding for, but that they vouch for it is enough.
—Even though we've wanted to do more, facilitate more productions, engage with more of our peers, we've learned that that's not always possible in our small structure.
Regarding the limitations of being a small structure: Are you looking to grow still?
—First of all, we must question what growth is. We don't want fully-equipped studios or a permanent building like a theatre. Thus, if that is growth, we agreed that we don't want to grow in such a way. Being small-scale also affords us many freedoms in terms of how we work, which projects we decide to take on, and such. We don't have to work in a commercial manner; thus, we choose not to.
—In previous conversations, we did say that we want to deepen instead of expanding. This also has to do with the reality of the subsidy framework—with every structural funding application comes a moment of reflection, looking back to then look forward, re-thinking the structure and adapting bits and pieces.
You say it is a matter of deepening, rather than growing. Can you give examples of this within Auguste Orts?
—Deepening… Perhaps that's about creating connections, lasting relationships? The Guest Production initiative is but one of the ways that we connect with our field. It gives us the honour of providing an invitation, which is a wonderful power to have: being able to share.
—There are challenges, too, of course. As with every new relationship, one has to find ways to co-exist. There are some productions that are, were, stronger than others, certainly in terms of the kind of accreditation that is counted by views or demand or profitability. And there were also other collaborations that cannot be measured in such metrics yet were invaluable to us, on personal levels, emotional levels, perhaps even just on the level of friendship or artistic appreciation.
—In terms of deepening, 'growing up' rather than just 'growing', we are maturing not only in age but in our relationships too. I mean, we are a different age than when we began, of course, so maybe we want to make things last a little longer? That sounds vague perhaps, so I can give the concrete example of production. For instance, we have realised several Guest Productions with Aglaia Konrad, which originated organically from the great working relationship she had with Marie. We have similar long-term collaborations with Dora García and Annik Leroy. Rather than inviting these 'guests' only once to our house, we wanted to have a deeper relationship with their practices.
So, can we deduce that you want to learn more about these artists' practices?
—The word 'organic' may be repeated here. Somehow, there is something fertile about those collaborations in particular. So, yes, you can deduce that we want to learn more of their practices. But their projects also just grew! They create ambitious projects or multiple-part projects, and thus they required more time.
—It's important for us to be able to take proper care of our existing (ongoing) productions, and not to (have to) add more productions to our workload just for the sake of growing the catalogue, just for the sake of numbers. We'd rather do fewer productions with care than limit our investment by overstretching our platform and compromising the projects in the making.
—This notion of 'deepening' is not only associated with productions, though. I am thinking of our working relationships too, like with Rebecca or Anna, as described earlier. If you look at the credits of our productions, you will see many of our skilled technicians returning to work together, time and again: Laszlo Umbreit, Léo Lefèvre, Artur Castro Freire, Loup Brenta… Or take Fairuz Ghammam, for example: a great friend after all of the years she has worked with us on productions as a dedicated and talented cinematographer, editor, and post-production technician. In fact, now we are looking forward to producing her new work: as artist, not technician!
Speaking of collaborations, at an international level, the relationships that On & For creates and makes space for is important, I think, in terms of strengthening your bonds in the field both at home and away. You are the main driver of that project. Why did you initiate it?
—Before discussing the conceptual side of the project—what we perceived it to be, why we are invested in On & For and its possible gains, like partnerships—it's important to address the foundation from which even the idea of handling a European collaboration could stem: 'how we initiated it'. And truth be told, it was all rather pragmatic: back in 2014, when we organised the first On & For events (the 'pilot edition', then without European funds but with local backing), we had a financial director, Ann Goossens, who had already run EU-projects in her previous employment, so we knew that as a small organisation we could handle that side of things—or, at least, she could!
—If you recall, some years before then, it was actually one of our board of directors, Geert Palmers, who was one of the first to raise the idea of applying for European funding. He saw it as a way of becoming less dependent on Flemish subsidies and to capitalise on Auguste Orts' inherently international way of working.
—True, and then we reached out to Anna in order to think together about how Auguste Orts could work internationally in a structural sense and help us navigate the first dossiers. In October 2012, she came to work with us and we went together to the Media Desk and Cultural Programme, and we applied in October 2014 for the first time—daring to do so because Ann came to work with us earlier that year.
—Beyond that, the reason why we initiated this project was that we wanted to connect with similar organisations in Europe. That search for connections is still ongoing. What we have learned, and perhaps that's why we were invited to participate in this conversation today, is that people/organisations throughout Europe 'look up' to our model. Which is sometimes uncomfortable! I mean, to stand out as some kind of 'example' when we know that to survive as an artists' moving image producer without the help of a national or European arts or film fund—or both—is a stretch of the imagination. At least, it is a great challenge to continue making the work that you want to make and be able to live from it. In this, we admire our colleagues like Stenar Projects in Lisbon, for example.
You hinted that you were unsuccessful in finding like-minded or, better put, 'like-modelled' organisations to relate to. However, we see that you are hosting events in Europe from Norway to Portugal. Thus, would you say that a large European network is being created, is taking form?
—Well, yes. It is. Little by little. Originally the idea was to find similar organisations from which artists could share skills, information on production and distribution. But when that was not successful, we started working with organisations that are complementary: active in the network but not necessarily the same. Because there are hardly any similar organisations, or they exist but have no structural support.
—It is probably best to remember that each platform has its own regional specificity. Our specificity is being a trilingual (NL/FR/EN) platform in the city of Brussels—a bilingual territory, which is the capital city of Flanders—and to have a Flemish subsidising government, as previously explained. Thus, connecting with all different shapes and sizes of arts organisations throughout Europe has been riveting, if only just to touch on the layers of complexities surrounding the existence of AMI-platforms. It could be a study in itself. One that we would greatly encourage, an ambitious mapping of the European landscape, its conditions, and working towards an ideal—I mean, towards an ideal way of working that isn't precarious.
As with each region, our situation has its own uncertainties: we depend on government subsidies.
And what about the larger picture: the European networks?
—Maybe we can point you to our website here—the website of On & For. The reason I'm adding this is that we have a participants-page that was designed as a reference of sorts, a depository for people to roam around in and see who—which organisations or individuals—have contributed to On & For. Thus, you can see the artists/filmmakers, production and distribution platforms, curators and programmers, exhibition and presentation venues, funds and collectors that we have, until today, encountered in this venture. All of whom have a vested interest, a stake, in artists' moving image production, presentation, distribution. That's our humble attempt at making our unscientific mapping visible.
—What it also shall make visible, of course, is the impossibility of mapping. I mean, there will be new production and distribution platforms forming constantly and we don't pretend to have a European overview. As said, that's a study in itself.
One of the things that immediately struck me about On & For was the principle that for the roundtables you organise, the Work Sessions,[3] you choose a producer to invite before you choose an artist's project and that the 'guest producer' proposes their own productions. You then have much less control over which productions will ultimately be included in the selection for these events. Is this an exercise in letting go? Or why did you choose to operate like this?
—Although it may seem as though we do take our hands off the wheel when it comes to the choice of the artists' projects, it wouldn't be only our choice anyway. On & For is a cooperative project, which means that there are many voices included in the decisions made: the partners of the projects, for starters, and the Work Sessions curator, for another. Each voice will have their own vested interest in inviting one 'producer' or another. And they'll most likely already have insight into who the producer is currently working with. So, it's not so spontaneous in most cases. Then, we do make collaborative decisions—or should I say, 'negotiations'—on which project would benefit most from the experience and we try to find a balance in the projects being taken on per edition—that they aren't all from established artists from Northern Europe or that the projects aren't too similar in length or form, to give but a couple of rudimentary examples.
—I'd like to add that the hosting partner will most likely want to invite a local or national (to them) 'guest producer'. At most editions—all editions apart from the two at Visions du Réel that we modified slightly for the film festival's context—there are four Work Session tables curated. And in Brussels, for instance, we always involve two local producers. This is partly to do with our funding structures and partly to do with connecting to the field, wanting to be able to invite our peers to participate in our project. In Brussels, for instance, we've invited Contour Biennale, Escautville, Jubilee, to name but a few.
—Perhaps it is also important to say that when we use the term 'producer', we do so in the broadest sense. The producer can be someone who is associated with a residency or exhibition space, and does not have to be a classic film producer, rather someone who accompanies a project. It's about making things possible, in all constellations. For example, our long-term collaborator LUX is not a producer; it's an 'arts agency'. They have, however, supported many projects at the On & For Work Sessions and helped to guide them to fruition. There are different types of hybrid-producers—but very few independent producers of artists' moving image.
—One of the things that often comes up is the question of whether you can 'train' that kind of producer—although that might be the wrong word! I think it's not that the care needed in the creation of AMI-projects is ultimately so incredibly different than film projects, it's rather the conceptualisation process, the development process, the budgets attached, the undefined, unpredicted durations of the works, the distribution means and outreach, and the flexibility necessary at all stages. The relatively small production budgets and the incredibly tight producers' fees to match make it unprofitable for most, but also unfeasible for many.
—At On & For, although the term 'producer' is flexible, at each edition of the Work Sessions, we try to involve producers and create a combination of various professionals enacting this role, too, because there is a certain know-how amongst producers that we want to take on board—to tap into, even—which is important for the learning process. In this way, bringing together those that facilitate AMI-production in one way or another, On & For also functions as a kind of showcase of production models, where artists and those supporting artists can meet.
—Take, for example, Annik Leroy's Work Session (2019, Brussels). Here, we are talking about someone who has a long-standing career in filmmaking (her debut documentary dates from the very beginning of the eighties). Accompanying her project was an established Belgian documentary film producer (Cobra Films), and then the curation of her table ranged from a television broadcasting producer (CANVAS VRT, BE) to a live arts festival that has branched into moving image co-production (Kunstenfestivaldesarts, BE), with a moving image producer (Pong, DE), visual arts professionals, such as a director of an institution (WIELS, BE) and a curator (MAC Gulbenkian, PT), and a dramaturge (Wiener Festwochen)! It's an interesting case study because, unlike most of the artists who participate in the Work Sessions, Annik's work has travelled through film channels, even being broadcast on television. So, due to her profile, we could 'hook' the interest of representatives of such fields to join us for her Work Session, and we could support her in meeting newer contexts for her practice, by proposing performance, visual arts, and museal contexts for her project.
—In terms of choosing artists' projects for the Work Sessions, in our scene, here in Brussels, it would be an impossible feat if we were to open it as an open call for artists to apply. There are innumerable artists who want to make a project and who would benefit from the roundtable events. We don't have the capacity to open up that arena and make a selection. Not in the way that the project is currently managed and funded, in terms of how we allocate funds between events—not only Work Sessions, which take place behind closed doors, but also public workshops, seminars, talks and screenings—and distribute the workload.
—But our choice to programme the tables in this way wasn't and still isn't due only to not being able to 'handle' the workload of an open call, as this we could calculate for in the future and organise things differently. Rather, to borrow your turn of phrase, it's to do with the notion of 'guest producers'. Indeed, this was a priority of ours: to find, meet, connect (with) those working in AMI-production. As a production organisation ourselves, we find value in facilitating the meetings of those working in the field. It's about strength in numbers too! We want more producers of AMI to exist. We want more artists to be able to produce their works. And we want not only 'more', but better conditions.
I think you have all participated in Work Sessions. What was that like for each of you?
—For me, the great thing about the Work Sessions model is the commitment to the process: the long haul. Once the artists' projects have been decided upon, there're multiple steps to be made. Although there isn't a rulebook on 'how to', I'll break the process down into the elements of the process that I recall, on the spot. First, you'll discuss the project's concept, your relationship to it, and formal aspects too, references, aesthetics, previous work, all of that, and you'll be supported in how to describe your project best on paper. That will be your project description, which you will eventually use to grab—and hopefully secure—the attention of the invitees. In parallel, this gives way to discussions with your producer and the Work Sessions curator on the direction of the project—from fundamental questions such as 'where do you hope to film?' to 'how do you envisage the distribution and presentation of the work?' These practical notions can lead to ideas on who you might like to invite to your table, or at least what kind of expertise, what kind of disciplines or fields are you hoping to break into or be supported by. Then you create dream guest lists of people, organisations, that you'd like to share your film idea with. And each person involved in these brainstorms adds insights, experiences, knowledges, ideas. Then, you start to get real. You start to make a balance. I mean, you have about 5 guest-tickets to offer, 5 seats to fill, and you want to use them wisely, strategically. So, you wouldn't contact 5 Brussels-based curators who you already know and have working relationships with in order to join you, for example. No, you'd create a table that could offer a diversity of knowledges, experiences, and offer new insights into the project's development—
—Of course, you also have to accept that some invitees won't have time to join you or aren't interested.
—True! But it's an excuse to start a conversation at least! And this process takes time. Then, when your table is confirmed, the excitement begins. You start to envisage your project presentation, your roundtable, and you'd better start preparing, too.
—Absolutely! I'll just add that it's also exciting to hear about who others have confirmed for their tables. At the event, you have four tables convening simultaneously. So, before the day itself, you'll find out who the other three tables have managed to secure as invitees. All of the guests combined will be your audience for the project presentations. And sometimes you'll even have a number of guest invitees who aren't participating in the Work Sessions but are only present for the Work Session presentations—I'm thinking of the curators visiting Art Brussels, or the symposium guests at Nordland School of Arts and Film, or those visiting the LIAF biennial (Lofoten International Art Festival), as On & For tries to take advantage of the guestlists of larger events by hosting our editions coinciding with their happenings.
—To follow up on the notion of time, it's further a unique situation that the conversations aren't rushed. After the individual project presentations to the collective audience, we have two hours or so to convene with our individual tables. So you can really go into depth on your project with the invitees. It's not like at film festivals or film 'markets', where you pitch to an anonymous audience of industry folks and then have a speed dating situation to further convince someone you have no real knowledge of, and they also not of you, to support your project. It's also not only about gaining funds! At the Work Sessions, half of the conversation is about the content, the conceptual part of the project. It can be really interesting to hear the input of your chosen invitees, some of whom will be on your wavelength and add to your flow, but others will challenge you and provoke new ways of seeing...
—And then comes the difficult phase of the task: it is great that the invitees support the project substantively, but how can you capitalise on that?
—Yes. True! Even when the composition of the table is in favour of your project, as is the goal, it's still a difficult exercise to talk about funding, co-producing, and to hint towards a need for investment. Which is why the producer's role is so fundamental, right?
–That is always the most difficult step: from the contemplative to the practical. Sometimes people end up being a little bit hesitant.
—Plus, you have to bring a certain openness to the table, to people who may want to produce or co-produce without being mediated by an institution, and yet you may want to have institutional backing. And while you want both parties involved in your project, one or another party will be hanging back… not ready to reallyinvest. Perhaps unable to really invest, for whatever reason.
I find it interesting that the Work Sessions are group processes because you step outside of that 'insider' atmosphere. As artists who have already participated in film pitches, can you say something about the openness of the Work Sessions?
—Actually, one of the criticisms we sometimes get of the Work Sessions is that they're carried out behind closed doors. But, as an artist, you are vulnerable within those closed doors. To some, that seems exclusive—a bit in contrast to the public pitches at festivals. Although those are also not really open because you have to register as a professional and often have to pay a lot of money to access these cinema market/industry events. So, in terms of agency, the film pitch scenario may be a bit more open, but it is also not a question of free entry for all.
—With a pitch you are much bolder, whilst you have a more vulnerable position here. With a pitch, the role playing is far more clear-cut: you're selling or trying to sell an idea. At the Work Sessions, the timing is radically different, not only of the meeting between the conversation partners but also concerning the stage that the project is in. It can happen that some of those who are gathered around the roundtable are already 'in', involved in your project, because the project has already progressed since you first reached out to them about it. The opposite can also happen: the Work Session can happen too early on in your project's timeline. And when that happens, the closed doors format can see to it that this 'failure' nonetheless turns into a productive meeting.
—It remains an interesting experiment to translate the Work Sessions into an open conversation with the public. That was the intention at the time, back when we first began with the Work Sessions in 2014, to demystify the film pitch-cum-Work Sessions process.
But we find it fragile, the notion of making public the conversations of the tables. I mean, there are no declarations made immediately, no investments are put on the table; there's nothing concrete to announce, therefore, only potentiality, only interest. If we expected to have direct investments, nobody would want to come! What we propose is a conversation between peers. And we want people to be able to speak freely. So, it's a strange idea to then 'publish' or make public the minutes of such a searching, sprawling, intimate, in many ways, conversation. People trust in one another and confide many things: about the project in the making, for one, which will surely change greatly before it comes to fruition. But invitees also often open up on the conditions of their organisations, on their own matters of precarity, on why or why not they feel in a position to look towards the future of your project. You don't want to have the sense of holding people to their word. Things become too officious, too invasive then.
—What we do, though, is try to make a short-hand internal report for the artist–producer duo. For them to reflect on points made, opportunities shared, names of references announced. We must remember that, although the Work Sessions are conducted over ample time, they're a rush for the people at the head of the table! There are many things to think of, putting your best foot forward, presenting all of the aspects of the project, keeping time, moving from the artistic and conceptual parts of the project to speak about the needs of the project, making sure everyone has been involved, has spoken, etc. So, it's great to have someone from the On & For team to help them remember the intricacies of things by discreetly making notes. But this is, indeed, a far step from making the discussions public.
—On the notion of openness, I think we have to reflect on generosity too. I mean, it's quite something that all of these professionals clear their very busy schedules to sit together, to make time, for a project that doesn't yet exist—and may never! I'm talking about everyone involved, from the artists and producers to the institutional curators or independent programmers. Everyone who is involved is investing time. It's not for money, either. Nobody is paid to be at the Work Sessions.
—Yes, that's true. But we've been discussing how it's not fair to ask independents to participate in such events for free. And we really want to take that on board for the next sessions, assuring a fee for those who don't have a salary.
Now, after 10 Work Sessions editions since 2014, 5 events during the first term and 5 in the second, can we speak of concrete results? What impact have the Work Sessions had on productions?
—The impact of the events themselves is tricky to quantify, as partnerships and investments don't appear immediately but present themselves over time. That said, I think we have all had concrete examples of co-production arising from the Work Sessions, right? The offers of support have manifested in various ways: residencies, exhibitions, commissions, invites even to pitch at industry events… Remind me, how many projects have been supported?
—If we count the upcoming Work Sessions at Visions du Réel in April 2021, since its inception in 2014, On & For has supported 36 projects with an invitation to participate in the Work Sessions and in the set-up of the roundtables. Of the 36 titles, 15 have been produced and distributed, only a couple of projects have fallen by the wayside or the project ideas have manifested in other forms, and the rest are at various stages of development and production. Keep in mind that, of the total 36 projects, 16 of them were participants of this 2018–2021 project.
—We are, in any case, always hesitant to make claims and quantify things. I mean, of course, we provide the set-up for people to get together. But it's the artists and producers, the allure of their projects, the depth of their projects, that really gets people invested in them. The credit is all their own.
—Certainly! However, along the way, we've been gathering testimonies from artist–producer duos in order to be able to report on the project's 'outcomes'. Fortunately, we do have feedback that can be used to evaluate the knock-on effects of the roundtables, and helps us report on the 'successes' of the initiative. Apart from the necessity to deliver an evaluation of such project initiatives for our financiers, we are also just delighted that things arise from the Work Sessions, especially when the projects that we've met along the way come to fruition. After all, that's what we do this for: for artists' moving image to be supported, created, and shown.
The current edition is called On & For Production and Distribution. Why did you decide to highlight 'Distribution' in this second edition of On & For?
—When proposing a second edition, we didn't want to end up in merely a kind of copy-paste situation from one round of the project to the next. In any case, you always have to be striving for 'innovation' when you are applying for such publicly funded grants. You wouldn't be awarded funding for exactly the same project twice. Which is another topic—as it can't be presumed that after one European-funded collaborative project of two years (2014–2016) the field of AMI is strengthened and set for a prosperous future, nor a second, or third, or fourth project for that matter. But that's a far more expansive issue, which can't be resolved today!
—With the first project, we were really just scratching the surface in terms of thinking about and supporting the field of AMI-production. But one has to keep evolving. And continuity is likewise important, otherwise the first project would have been but a drop in the ocean. No, we decided to reapply with the Work Sessions model again, and, as with last time, create a programme of discursive events that would be open to all. Then, in terms of points of focus, we thought that the natural evolution was to shine a light on distribution. In our first term, we did look at distribution in relation to production and we wanted to take that forward: we wanted to explore what distribution is and may look like for such films as we make. Simply, we wanted to feel out new modes of distribution, and feel out old modes, too, for that matter.
—I think there are very few answers to questions posed by distribution because very little research has been done on it. In production, those possibilities have been mapped out a little by On & For. The seminar on distribution (Distribution Models, 2019) was really great for this, if only for its focus on data gathering and sharing numbers, opening the books, on stage. Many people are guarded when it comes to talking about money; we are taught that it's rude, right? But this event put that attitude on its head in a 'bare all' kind of fashion, which was liberating for all involved, so it seemed. On our website, you'll find the audio registration of the event and the so-called 'DATA SWAP', the graphic analysis of the figures that were gathered and shared. You can check out the presentations and the 'hard matter' if you're interested.
— 'Hard matter'?
—Yes, the numbers. That's how Natalie Gielen refers to figures and funds in her essay, 'In Between the Cracks', on the event in Lofoten. I liked the expression!
—Returning to why we expanded our project to think of dissemination, it was also a concern that's linked to the educational side of things; that became apparent through our teaching positions. As teachers, we've noticed that distribution is not really discussed or handled in an educational context. At school, you can learn how to make a film: from exploring its concept to its finishing touches, with the support of technicians. But everything that comes afterwards is actually not discussed.
—Yes, agreed. The Dummies workshop series held in Brussels—Production for Dummies and Distribution for Dummies—is like a gift from above because it offers a crash course in the knowledge that's lacking in our education systems.
Before we depart, we have talked about how On & For started, but maybe we can try to land, briefly, also on why you initiated On & For and continue to be at the wheel?
—Why? Well, that was actually (just) because we work so intrinsically 'internationally', which is rather unexpected for a small organisation perhaps and, in addition, quite invisible to people involved in policy. We wanted to make that somewhat explicit, because today it is thought that (only or mostly) the large institutions are the international ambassadors.
—To pick up on being at the wheel, well, there are many benefits from leading a project, as you can steer things in an interesting direction. But it also means you have all of the responsibility. So if agreements aren't being met, you need to often run after people in order to make sure they fulfil their promises, abide by the rules, and so on. That's the downside. However, if you find the right partners, you shouldn't have that problem. The ambition is to work with others who bring ideas to the table, who are eager to curate and host On & For events in their national contexts, and who'll be ambassadors for the project. Those are the partners that you'd better connect with, ones that want to pull their weight and learn together. To initiate such a project, it's a big undertaking—there's no denying that! But it's about bringing fresh ideas and energy into your operations. It's motivated by the excitement of doing something out of the ordinary, something extra, something expansive, something that is bigger than just yourself, in your own organisation and on your own little patch of land. It's about learning, about sharing, about scratching surfaces, and putting in as much effort as you can to go in depth. Such a project gives us the opportunity to open outwards, to have colleagues, build partnerships, and create lasting relationships… I'll be quite sad to see us shrink again, to say goodbye to all of that.
I guess that whether On & For continues to move forward also depends on future financing?
—It all depends on us applying again for the finance, certainly. But I think that we need to stop and take stock first…
—For the future, it is also a question of what will happen with European events—you know, the criss-crossing over borders for talks, symposia, screenings, exhibitions that was such a given before this year's health crisis. Such events are at the basis of On & For's operations to date; events where people come together and share their knowledge from all corners of Europe. That 'coming together' is now somewhat difficult and limited—and we do imagine that to be the case only for a limited amount of time. But there is also an unlimited issue that resonates: the environmental issue, and the growing consciousness in us—at Auguste Orts—of the ecological impact of such gatherings. In general, we want to limit our participation in the kind of events that just fly people in from all over for one-day seminars or such. We are, or seriously aim to be, conscious in our own travels, in our own productions, and so the formula of On & For should reflect this ideology too.
—Times have changed—I mean, the thinking and consciousness in relation to environmental matters—since we started On & For. In the European funding terminology, our main 'priority' was/is to be 'transnational' at our core. Only now, along with most of the planet, we have been surfing the digital wave of 2020, rolling into 2021—hosting meetings, workshops, even Work Sessions (2020, Brussels) online. And we need time, now, to reflect on the benefits of that. The space that the online environment has opened up: a relatively clean travel through the airwaves.
—And to what effect? Well, socially, all of the informal moments that surround lectures, screenings, roundtables, etc., are evidently flattened by the screen—you know, you're talking to a mirror, talking into what can feel like the void. It can be quite disconcerting. And we miss, deeply, all of the unprogrammed, off-script moments of connections with our peers, with old alliances, with new friends. However, the core aim: to generate and share knowledge on a particular subject from different perspectives, hearing from different modes and conditions of working, has been possible. Investments of time, of thinking together, of sharing one's knowledge have been made—only, now, they are made in our independent spheres, digitally. And, if you look at the last Work Sessions event, we have had participants from outside of Europe too, from Colombia, Canada, Mexico, all of whom we could never have dreamed of inviting on our small travel budgets if the situation had been, as planned, live. Thus, we have to weigh up the pros and cons of what we've learned from this situation of being 'locked-down' and our project being shook up.
—Yes, the agitation has been interesting! Now, I'm curious to see where the pieces land. There are so many interesting paths still to explore with On & For. The Work Sessions formula is certainly a hit. There simply aren't enough situations that support AMI projects in such a way, in the modified film-pitch form. But regarding the public discursive events, I feel that by gathering and sharing data, and talking about what the facts tell us, we have been working towards producing content or at least a level of discourse that discusses concrete matters, rather than talking in meta terms. Talking 'numbers' may sound technical or aloof, but actually, it's like pulling up your sleeves and really getting into something. Sharing the 'hard matter', which differs per subject, per organisation, per individual, you can start to have an indication of what's really going on in production or distribution, you are on the outside looking in, instead of being only in your own bubble, you can start to see trends and think through ways to divert certain laid-out courses, think towards new ways of doing—
—Sure, but I'll harp back to the notion of data gathering being a professional study in its own right, whereas we are more focused on creating the platforms for discourse through hosting events, which will hopefully empower people, equip them with knowledges, so they can instigate changes. It's equally important that we keep on inviting those who work with funds to such events, administrators, policy makers, and such, as the channels of learning and communication must remain open and flowing, in both directions.
—Another tangible outcome that I think we can be proud of is making a priority of presenting knowledge to starters, who can be overlooked when we are only talking to those who are making things: from making films to making film funds. We need to remember to keep sharing with those who are 'in the making' themselves: students, fresh graduates, or even just artists who are experimenting for once with moving image. They also give us energy. The questions they pose stop us from taking things for granted; they make us think, be aware.
—Perhaps what I'm about to add appears to look backwards, to old norms, but I'm excited about the future: about the prospect of getting together again with our colleagues, friends, meeting new people too; about going to the cinema to see the works that have been developed from the Work Sessions; to meet new initiatives that have sprouted up in parallel to the project.
—I think it's okay for us to imagine a socially less distant future! That's what we all need now, perspective.
—Yes, and one perspective to keep in mind is all of the people and organisations that have reached out to us, with an eagerness and curiosity to understand the mechanics of the project, perhaps with the will to be involved or set up something like-minded, or 'like-modelled', as the term was coined earlier. I mean, I had so many animated conversations with peers along the way, about the importance of such projects that create a 'peer group' for artists' moving image, and about the necessity to continue to nourish that; it would be a shame to let that sense of urgency, action, community slip away when I had the feeling that many people/organisations wanted to join us, to strengthen the project, in some capacity or another.
—Indeed. We also could feel the relevance that the project seems to have in the wider audiovisual community, not just in Belgium but beyond, through the conversations had with project partners, associates, or even just audiences.
—I'd say especially audiences!
—Yeah, it's almost as if people forget that On & For is only a 'short-term' cooperative project, which lasts a maximum of 3 years. I mean, I often sense that people think of On & For as an institution! Something that's built to last.
—You mean, funded to last?
—Ha! Yes. Now, that would be a novel idea.
—Well, I'd say that there are foundations laid that are built to last. We just have to see how we'll add on to them. What will be our next building blocks?
—I guess we just need to get through to the other side of this health crisis, wrap up this project neatly, in terms of all of the administration, and then take some time to reflect together on possible futures. Although I'm putting on the breaks, at times, especially during these uncertain times, I feel that this is not 'the end'.
To be continued, thus!

Helena Kritis is a curator at WIELS Centre for Contemporary Art in Brussels and programmes for the experimental short film section at the International Film Festival in Rotterdam.
Rebecca Jane Arthur is a Brussels-based visual artist. Parallel to her artistic practice, she is project coordinator of On & For, co-founder of the production and distribution platform elephy, and contributor to the online film agenda Sabzian. She wishes to mention:
'Thank you to Jan Costers for his help with the transcription of the audio recording in Dutch. Because he didn't know who was who, which voice was speaking, with the full consent of all voices, I decided to play with that instead of 'correcting' his short-hand transcript. Still, I'd like to thank each unique voice for their participation in this conversation, and send a special thanks to Helena Kritis for asking the pointed questions that gave us all a friendly shake! Thanks to Elizabeth Dexter for reading with care and sending feedback with candour.'